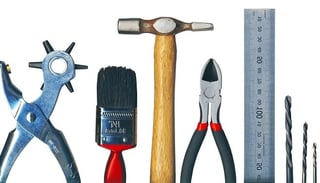 Leaders who want to develop a culture of rapid continuous improvement have many tools at their disposal. So many, in fact, that it can be difficult to keep them all in mind when deciding how to execute an opportunity for improvement or to address a difficult challenge. Or course, most organizations don't use all of them at any one time, but each can be remarkably effective when applied to the right situation.
We thought it might be helpful to list some of the more common and useful ones all in one place. Keep on reading for links to more detailed information about each, so that you can dive more deeply into the ones that seem to fit your needs.
#1 - A3
A3 is a structured problem solving and continuous improvement approach that was first employed at Toyota and typically used by lean manufacturing practitioners. The use of A3s is spreading to organizations in every industry, and is pretty common amongst our customers. An A3 report is one page that documents the results from the PDSA cycle. A3s get their name from the A3-sized sheet of paper on which they are designed to fit.
Read more about A3s in this blog post.


#2 - 5S
5S is the name of a workplace organization method that uses a list of five Japanese words: seiri (sort), seiton (set), seiso (shine), seiketsu (standardize), and shitsuke (sustain). Although the technique was originally applied in manufacturing, many organizations in a wide variety of industries have found that 5S is an effective way to achieve rapid continuous improvement.
For example, check out this post about how to 5S your kitchen.


#3 - Catchball
The idea of catchball is quite simple. Someone starts a rapid improvement or planning project. They define the purpose, goals, background, and challenges, and then "throw" them to other stakeholders for opinions, help, and action. At every point, it is clear who has ownership of the idea (ball). The ball can bounce around back and forth among all of the players until the improvement or plan is complete.
More on avoiding common catchball errors here.


#4 - DMAIC
DMAIC is a project methodology with five phases; define, measure, analyze, improve, control. These steps are used to help ensure that improvements are data-driven, measurable, and repeatable.
Learn about key objectives for each stage of the DMAIC process here.


#5 - Gemba Walks
The term "Gemba" means "The real place" in Japanese. The Gemba walk technique involves managers or supervisors going to the place where work gets done to observe and identify opportunities for improvement. Only after the walk is complete and a period of reflection occurs are changes implemented.
Here are some do's and don'ts for Gemba Walks.


#6 - Hoshin Kanri
Hoshin Kanri (also called Policy Deployment) is a strategic planning method that ensures everyone in an organization is driving toward the same goals. It is also a tool for balancing the need to achieve long-term goals and address daily improvement opportunities at the same time.
Here are some signs to tell you if your organization would benefit from Hoshin Kanri.


#7 - Kanban
The practice of Kanban originated at Toyota when they applied the visualization principles that are used by grocery stores to have on hand the right level of inventory. The idea is to maximize the flow of goods and work. It is achieved by ensuring that work is visualized, work-in-progress (WIP) is limited, flow is not interrupted and that improvement is continuous.
See how Kanban applies to knowledge work here.


#8 - PDSA
PDSA is an acronym that stands for Plan, Do, Study, Adjust. It is also known as the Deming Cycle. An opportunity for improvement progresses through this cycle with documentation occurring at every step. Once the cycle is complete, it begins again with a new plan for improvement.
Learn more about the origins of the PDSA cycle here.


#9 - Standard Work
Standard work is the documentation of the best practices for any process or task. It must be complete, accessible, and up to date. It forms the baseline for rapid improvement activities.
Check out some common myths about standard work here.


#10 - The 5 Whys
The 5 Whys is a technique for finding the root cause of a problem. Users of this method start out with a statement, then ask "why" until the underlying issue is revealed. It is common, (but not universal) that asking, "Why," 5 times will reveal trouble that needs to be addressed.
See how the 5 Whys can help you to set better goals in this blog post.?


#11 - Value Stream Mapping (VSM)
Value Stream Mapping is a lean-management method for documenting and analyzing the steps of the end-to-end process that takes a service or product from its request to its delivery to the customer. This method can be practiced with essentially any value chain.
More about VSM best practices here.
As you can see, the rapid continuous improvement toolbox is full of useful implements. Just follow grandpa's advice and be sure to pick the right tool for each job. Let us know if there are others you think should be added to this list.