Tania Lyon is the Director of Organization Performance Improvement at St. Clair Hospital in Pittsburgh and a KaiNexus customer. She has taken full advantage of the KaiNexus platform and today we will share a guest post that she wrote about the use of Boards at St. Clair Hospital.
KaiNexus boards are an important part of our continuous improvement effort at St. Clair. With only two staff members dedicated to continuous improvement in a hospital of 2,400 employees, we need transparency to help us identify where our coaching is most needed. Our KaiNexus boards help us prioritize who to work with and when, sort of similar to how the squeaky wheel gets the grease. They also help us know where and when to "coach the coaches" as we work to embed lean management principles into our leadership team.
Front Line Dashboard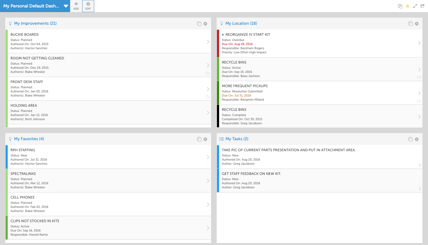 Our Default Dashboard is our most simple and is the same as what the KaiNexus staff recommend. We use four cards that track the individual's Improvements, Projects, Tasks and the Improvements in their location.
This allows front line staff members to keep track of improvements that they are responsible for, and we have this board set as the default for all frontline staff.
---
Manager Dashboard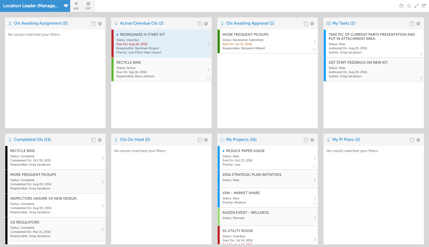 Our Location Leader or Manager Board is a bit more detailed. It allows our managers to track all Improvements and Projects in their location, as well as the Improvements, Projects, and Tasks that they are personally responsible for. They can see what all of the staff members in their area are working on and be there for assistance and support if needed.
---
Kanban Board
We also have a simple Kanban Board available to our managers that gives them a slightly different snapshot of improvement activity in their areas. This Board has only three cards - To Do, Doing, and Done - which helps us keep track of improvement throughout the cycle. We love this Kanban-style board because it reminds managers they don't have to do everything at once. One of the benefits of KaiNexus is that it captures and holds on to improvement ideas even when they can't be acted on right away. The "To Do" card allows managers to stage improvement ideas that need more time before they can be worked on, without losing them, and helps managers sort and prioritize their department's improvement workload to match capacity.


---

Leader Dashboards
The next level up is our Director Board which makes it easier for our directors to understand and take responsibility for the improvement culture in their areas of oversight. It is essentially a customized Bottleneck Board set to include all of a director's locations. Rather than involve directors in the day to day management of individual improvement opportunities, we ask them to function as coaching support to the managers. That means the Director's Board will only show those areas where their managers are falling behind or running into trouble: OIs that have been unassigned for longer than 2 weeks (our expectation is that managers make an assignment within one week of submission), or OIs that have been overdue for more than 2 weeks or that are overdue for a resolution to be approved. It also has a card for "Stagnant OI's" indicating any OIs that have had no updates of any kind in over 30 days. If managers are on top of their own boards, then directors will see very little activity on theirs. But if managers are struggling to keep up with KaiNexus, directors will know where and when to ask some why questions, offer support and bring in resources as needed.



---
Bottleneck Board
The same Bottleneck Board is set up at the hospital-wide level for our continuous improvement team to watch for trouble spots and to step in with coaching and guidance for directors and managers as needed. At the manager level, we are often coaching them on how they respond to staff OIs. At the director level, we are usually coaching them to simply be involved in their areas' improvement culture--to track KaiNexus activity as an important metric and to communicate that interest to managers through regular conversations and check-ins. The KaiNexus Director Board gives them a transparency they never had before and can operate as a rounding tool or as an agenda item in director-manager meetings.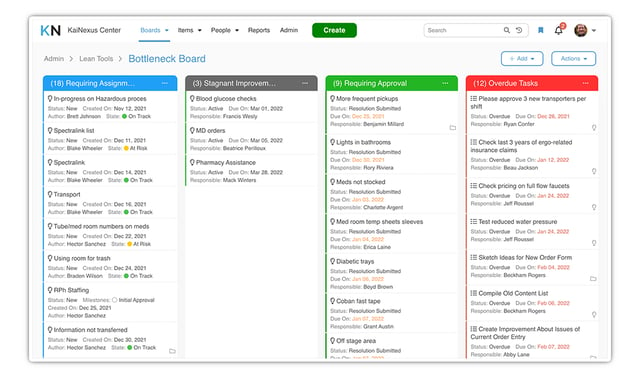 ---

Personal Dashboard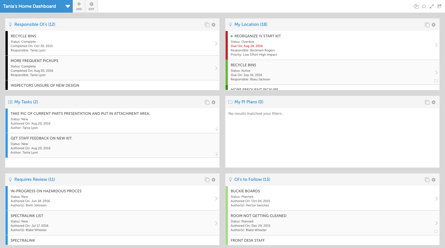 Finally, I have my own personally customized Board called "Tania's Dashboard." I use this to track OIs and tasks that I am personally responsible for as well as specific groups I am actively coaching. For example, we have an emerging leaders development program which requires participants to complete at least two improvement projects and document them in KaiNexus. One of my cards is set up to filter those OIs for the individuals I am personally assigned to coach. We do something similar with department Performance Improvement Plans. We also set up a department in KaiNexus called "Requires Review" into which managers can transfer OIs that require decision making from multiple departments or from senior levels in the hospital. One of my Dashboard cards filters all OIs for that location as my department is in charge of triaging them.


---

The flexibility of these boards and the filters used to build them is key to helping a small number of improvement professionals guide a large organization to deepen its improvement culture and scientific problem-solving skills. They provide real-time data that help drive real-time coaching and problem solving.
Are you a KaiNexus customer needing help with your board? Contact your favorite KaiNexus team member for help! Not a KaiNexus customer? Contact us here for more info.