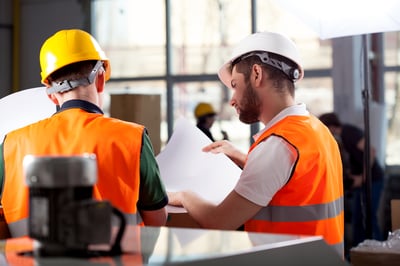 Most well-established manufacturing companies would agree a plan for every part (PFEP) is fundamental to their improvement efforts. The organization captures and manages a significant amount of data to ensure the characteristics of all materials required for their processes have a clear purpose, place, path, and plan for movement or storage. Teams often go to extraordinary lengths to evaluate details of these materials, including safety requirements, packaging dimensions, frequency of delivery, container types, weight, etc., to ensure flow is optimized and abnormal conditions are highly visible.
But what is often lacking for long-term sustainment is not found in the design of a spreadsheet or perfect database of material part information. Success is really based on the team member's behaviors and decisions. In other words, people use PFEP methods and tools to make work relevant, simple, and impactful. When your PFEP isn't delivering the desired results, the discussion should shift to evaluating your Plan for Every Person.


What is a Plan For Every Person?
Every person has a purpose for the company, their team, and themselves. It might not be clearly articulated or formal, but it is the engine to achieving ideal performance. Every person has a current condition that may or may not be achieving that purpose. This PFEP helps identify and close those gaps. Every person should have support in creating a plan and pathway toward their next goal.


A Plan For

Every

Person, really?
What if we went through the same level of rigor to identify all the characteristics that describe every person in our organization, every customer, and every supplier? Any high-performing team knows their current knowledge threshold and embraces the skills they have to accomplish their goal. They share their personal development plans, hopes, and dreams and help each other close the necessary and desired to learn gaps. Many teams will expect and create plans for high potential individuals, or individuals in certain roles, but why not for everyone? Here are some questions to ask before creating your plan for every person:
Do we demonstrate the same level of care and commitment to developing people as we do for our customers' or internal performance outcomes?
Does everyone have a plan for development?
How well do you know the status of your employee's and teammates' development plans?
Who is the coach or mentor that is helping?
How are they enabled to achieve the plan?
How do we problem-solve this plan when it is "off-track?"


So...Who Owns the Plan?
In many organizations, teams rely on a human resources department to drive systems like training, leadership development programs, succession planning, promotions, and hiring practices. Development plans may get put into a system and pulled out at performance review time to discuss. In many cases, it is an afterthought and may not even be a part of a performance review discussion. It is often informal or ad-hoc at best.
Like the traditional plan-for-every part (PFEP), the most successful plans are created by those who own their learning journey. Very few people have the luxury of being handed the work they want to do that leads to self-pride and personal satisfaction for their entire life. The plan for your life purpose is nothing anyone else can develop or manage for you, and without a plan, you likely won't achieve your purpose.


Tell Me More...What is in Your PFEP?
For organizations, when looking broadly at each person or need on the team, it is important to be unbiased, yet clear, on the desired outcomes. The table below shows common attributes in a personal profile. This is not a cookie-cutter approach but should be adapted. Just like parts in a factory, as conditions change, the specific characteristics and items in your PFEP may need to change. Any concept used should be easily updatable and managed for continuous improvement.
If a Plan for every Person (PFEP) had a template, it might consider capturing these areas:
| AREA | Description | Supporting Question |
| --- | --- | --- |
| Formal Name | Given name. | "Who am I?" |
| Favorite Quote | What is your favorite quote? By whom? | "Who/what has influenced my thinking?" |
| Common Name (Nickname) | The name I desire to be called. | "How can others show respect immediately?" |
| Current Location | Physical location. | "What are the cultural tendencies or norms I possess?" |
| Years of Service Organization | Tenure with this organization. | "Why did I join and stay?" |
| Years in Current Role | Length of time in current role. | "What is appealing and unappealing about the work and this role?" |
| Personal Strengths | What do others perceive as key capabilities? How do I perceive myself? | "What are my top skills?" |
| Personal Vision Statement | Who do I want to be long-term? | "Who do I want to become?" |
| Personality Traits | My natural tendencies. | "What do I know about myself?" |
| Learning Style Preferences | Do I prefer reading, doing, or observing? | "How do I learn best?" |
| Travel | Do I like to travel, and am I open to relocating? | "What are my future interests with travel?" |
| Languages and Fluency | What languages do I speak? What is my fluency level? | "What languages do I know, and how well do I know them?" |
| Current Development Plan | What are the current focus areas and learning pathways being used? | "What skills am I working on now?" |
| Teacher/Coach | Current person I rely on for development. | "Who is helping me?" |
| Personal Weaknesses | Opportunities I wish to improve. | "What struggles or frustrations do I have that are of concern?" |
| Degrees Held | Formal degree(s) I hold. | "What knowledge have I gained?" |
| Certifications Held | On-going learning certificates I hold. | "What additional learnings have I accomplished?" |
What is Your Next Step for THIS PFEP?
So, do you and your team each have a plan? What is the standard tools and process used? Is it currently being used? Is the pace to close skill gaps fast enough for each person and the team? What skills are needed and relevant for the future success of your team? Let's spend as much, if not more, rigor on this PFEP; you won't be disappointed!
PFEP Reference: