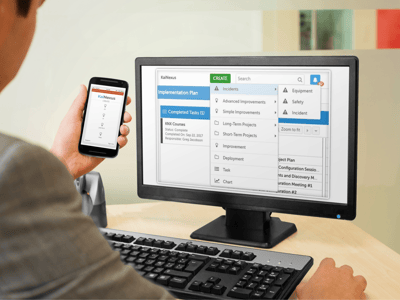 The A3 problem-solving technique, originally developed as part of the Toyota Production System, gets its name from the size of paper that early adopters used to document their work. (A3 is a European paper size that's about the same as 11 x 17-inch tabloid-sized paper used in America.) While the approach started with a piece of paper, technology has been developed to make it easier and more effective. With A3 software, teams solve problems faster, calculate the impact of improvement, and learn from prior projects.
While it originated in the manufacturing sector, A3 problem-solving is now widely used in almost every industry. It is flexible enough to be customized for your specific business.
What is the A3 Management Technique?
Jim Womack, the co-founder of the Lean Enterprise Institute, explained, "The most basic definition of an A3 would be a P-D-C-A storyboard or report, reflecting Toyota's way of capturing the PDCA process on one sheet of paper. But the broader notion of the A3 as a process–embodying the way of thinking represented in the format–captures the heart of lean management. In this context, an A3 document structures effective and efficient dialogue that fosters understanding, followed by the opportunity for a deep agreement."
When you break it down, the A3 problem-solving approach includes the following steps:
Problem definition
Problem clarification
Objective setting
Root cause examination
Countermeasures
Communication
Why is the A3 Technique So Widespread?
The A3 approach is popular because it supports problem-solving and fosters communication and a back-and-forth conversation in a manner that results in good decision-making. With this technique, the countermeasures have a better chance of working because they are based on information gathered at the place where the work is done, also known as the Gemba, from the people who perform the operation under review.
Our customers that successfully work A3s have found that getting the right people involved, keeping things simple, and visualizing the information are the keys to positive change.


Why Implement A3 Software?
There are several advantages to A3 software vs. the traditional paper approach. They include:
Process Standardization: There is enormous value in getting everyone in the organization to follow the same A3 process and produce consistent, searchable documentation.
Cross-functional enablement: In most organizations, the most significant opportunities for improvement are processes involving more than one function. A3 software fosters cross-functional collaboration by offering a single platform that everyone can access regardless of their role or location.
Broad Visibility: The ability of all involved team members, managers, and executives to get insight into what is happening with each A3 project is a massive advantage over paper. In only a few clicks, everyone who needs it has real-time access to all relevant data.
Impact Measurement: Once countermeasures are in place, it is vital to measure the impact of the change on key performance indicators like cost reduction, revenue, customer satisfaction, safety, and quality
Knowledge Collection: Organizations that are effective at continuous improvement are always learning from each project. They want to know what went well, what didn't, and what other challenges were uncovered during the process. A3 software serves as a repository for all of this information so that teams get smarter with every project.




What are the Essential Features of A3 Software?
Various tools can be used to manage A3 projects, but the best solutions include the following capabilities:
Mobile Apps: Information about A3 work should be available to everyone who needs it on whatever device they prefer.


Opportunity Capture: Anyone in the organization can have a great idea about what A3 improvement projects should be considered. The system should make it easy for them to input those ideas whenever inspiration strikes.
Alerts and Notifications: A piece of A3 paper, or any size paper for that matter, can't remind someone when a task is due or alert a supervisor that a deadline has been missed. The best A3 software can do this and more by providing a structured flow to improvement.


Visual management: You don't have to give up the benefits of visual management when you transition your A3 problem-solving from paper to the cloud. Look for a solution that replicates the "ah-ha" moment that you get when information is presented in a visual format.


Whether you are just getting started with A3 problem-solving or have been doing it on paper for some time, switching to A3 software will help you get better results from each A3 project and make it easier to document and measure the long-term value of improvement activities.