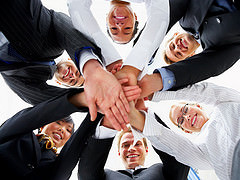 We've always said that KaiNexus is so easy to use that most people require no training to get started. We intentionally designed the software this way, so that there would be no barrier to getting started.
Here's the story of how one of our customers got started with KaiNexus, told by Jonathan Bykowski, Principal and Practice Area Leader, Continous Improvement at Array Architects.

______________________________
When we were first rolling out KaiNexus at Array Architects, our CEO Carl Davis identified an opportunity for improvement regarding an accounting issue and entered it into KaiNexus.
I was leading the KaiNexus implementation, and was traveling at the time. I logged into KaiNexus while still out of the office and assigned the opportunity for improvement to Christine, an accountant at our firm. I then created a team with representatives from Accounting, Project Management, and a consultant. I knew that they were going to get an automated email from KaiNexus, so I used the comment feature to send out two quick emails directly from KaiNexus – one to the woman I'd assigned the opportunity for improvement to saying I'd coach her through the process when I got back, and one to the rest of the team requesting that they review a PDSA A3 template I'd attached to it.
Because my team included high-level personnel with busy schedules (including a CEO and a Regional VP), I figured it would be at least a week before they were able to get together to discuss the opportunity for improvement. I used KaiNexus to task an administrative assistant with scheduling a meeting. This resulted in the assistant submitting an opportunity for improvement of her own regarding scheduling meetings; it had always been hard for her to tell who needed to participate, but attaching the task to an opportunity for improvement in KaiNexus allowed her to see who was collaborating on the project, so she could tell who needed to be included.
At that point, I figured I was done with the opportunity for improvement for now – after all, no one on the team had received formal KaiNexus training yet, so how much work could they get done?
It turns out, quite a bit.
Without further prompting, the team started submitting comments on the opportunity for improvement, working toward a solution. One of the collaborators was a Senior Project Manager from the Design Department. He recognized that the problem with exchanging and documenting information identified in this opportunity for improvement was similar to one his department had already solved. It turns out that the solution his department instituted also worked in this case, and the problem was solved before the first meeting ever took place.
______________________________
This is a prime example of how powerful the KaiNexus continuous improvement software is; by connecting people in an organization, everyone can benefit from the knowledge and experience of the entire organization. This ensures that improvement efforts have the maximum impact on the organization, and that improvement is continuous and lasting.
To learn about engaging employees in continuous improvement work, download our free eBook today!