This post is about improvement and its role in a crisis. But I'm choosing a subject matter that has nothing to do with essential services. I realize that everyone has something they really miss about the way the world worked before this crisis became such a battle.
For me, I really miss sports.
I grew up playing sports, and they are still a big part of my exercise routines to this day. I have a few teams that I have rooted for since I was young - LSU Tigers, New Orleans Saints, and the Atlanta Braves.
Growing up, one of my clearest memories was watching the Saints play during Sunday lunch as a family, and even today, my entire family wears purple and gold everywhere we go. Heck, I still remember when the cable company trenched our backyard in the early 80s and TBS showed almost every Braves game.
More than anything though, I miss watching my children (and children everywhere) compete. My family has progressed through baseball, soccer, basketball, golf, and volleyball, and I can certainly attest that watching children compete is one of the purest forms of both anxiety and joy there is. Sports represent some of the best memories of my life, and I'm looking forward to a day when sports can be played freely and joyously again.
As I've gotten older, I've also developed a love for the game of golf. I love playing with my family and friends (my step-son is pretty darned good). I love practicing alone on the range and I love watching golf on TV. It would seemingly be a sport that would promote social distancing by its nature. However, as with anything, there are always opportunities for improvements (OIs) that would make the experience safer during these times.
To be clear, golf is NOT an essential activity, and you should NOT be playing it right now.
While I miss sports dearly, playing them - even outdoors in the open air - is not a risk worth taking. No matter how careful you are, you risk exposing yourself - and others - to COVID-19 with every social interaction. At some point, though, we'll be able to resume some of the activities that we love and miss by adapting the way we do them to take extra precautions.
Here are a few ideas that come to mind for me when considering how we can alter our golf games a bit when we move from the hammer stage of this pandemic to the dance:
Leave all golf cart doors open if the weather permits to minimize contact with door handles
Give each person their own golf cart instead of sharing. Sitting next to someone is not promoting the physical distancing that we need
Create signs with strong reminders not to handle each other's clubs, balls, drinks, towels, etc.
Provide reminders not to shake hands, fist bump, or high five
Let people know that they should sanitize immediately after using the water cooler, bathroom, touching the flagstick, or grabbing their golf ball out of the cup
Or take it a step further and raise the cup so it protrudes out of the ground by an inch (or create a lid for the cup - maybe an upside-down drinking cup with a cutout for the flag to pass through), and then promote a "putt till you hit the cup" policy
If the store provides a touchless payment system, use that over cash.


Here are some tweets that show various approaches to modifying the cup and pin: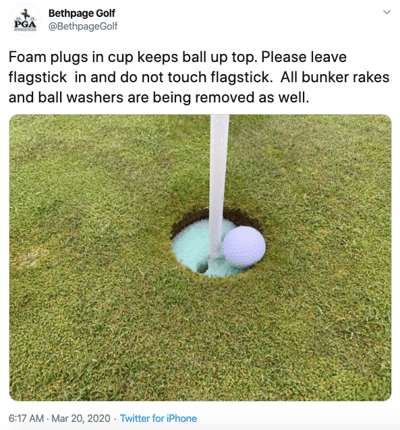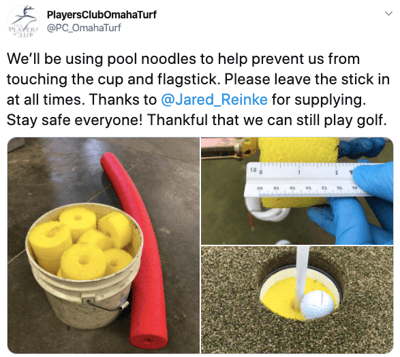 As with any OI, it's important that we think through the ramifications of the proposed changes to make sure they are not doing harm elsewhere downstream. For instance, requiring employees to sanitize golf carts may simply be a risk we are not willing to take, and so walking will become the only option. However, the concept of OI's permeate every part of our society - especially in this age of brand new processes.
I'd encourage you to look for OI's as you go to the grocery store, pick up take-out, accept deliveries, plan your meals, and so much more. More posts will follow in this series. I think this post tees it up for the rest of them, LOL.
The power of improvement will be more important now than it ever has been, and it's a way for each of us to contribute.