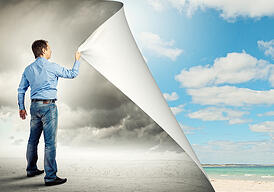 The concept of change management originated in IT departments to address the need to make certain that standard methods and procedures were used to ensure prompt handling of all change requests while reducing the potential negative impacts of changes. Change management software was developed to bring structure and provide a record of this effort. Of course, changes occur in every part of the organization and many leaders are starting to explore the value of implementing change management software across the entire organization. Here are just a few reasons companies find this approach attractive.
Structure
Change management software helps businesses gain control over the constant course corrections necessary to improve the business. Change management software helps companies document suggested, in-progress and completed changes and becomes the system of record. It stores document, links, comments and tasks associated with each change and provides visibility into each change process.
Notifications and Alerts
Managers and supervisors benefit from change management software as they are notified when change ideas are submitted. This helps them focus the right amount of attention to each change and ensures that no balls are dropped. This makes change management an active process, unlike past methods of managing change with spreadsheets or email.
Tribal Knowledge
In large or distributed organizations it is common for each department or division to operate as an independent unit. Changes are not always well communicated to other areas and confusion or inefficiency can result. Additionally, valuable information about needed or ongoing change is sometimes held by one or two employees and lost if they leave the company. Change management software alleviates both problems by consolidating ideas, tasks, responsibilities and results all in one place that is accessible by any member of the organization from anywhere.
Impact
Without change management software, it can be difficult to calculate the impact of each change and organizations may be unable to understand the value of their efforts to improve. Change management software provides a source for impact reporting that can help assess changes at every level from small ideas to major projects.
Recognition
Companies that want each employee to be an agent for positive change benefit from change management software that helps recognize and reward the employees who are having a positive impact. Employee recognition is the fuel for change as it leads to more employee involvement and more constructive engagement.
Change management software is a valuable asset for leaders who want to gain control and improve results across the entire organization.