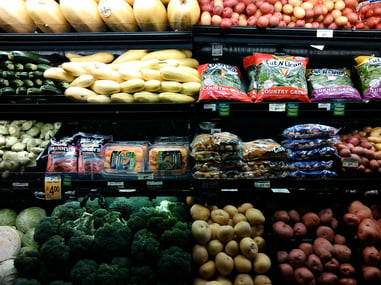 Last week, Whole Foods made an announcement on their blog stating that they have accidentally been mislabeling the weight of pre-packaged food. This information came to light after an inspection of 80 different types of pre-packaged products turned up inaccuracies at the 8 NYC locations. "We're not just talking about a few violations," said Julie Menin, the Commissioner of the NYC Department of Consumer Affairs. "We are talking about what literally amounts to thousands of violations over numerous stores in the New York City area." Errors resulting in customers paying more for less is bad news for a brand whose high prices have earned it the nickname "Whole Paycheck."
While some claim that the overcharging is intentional, Whole Foods execs point out that the errors go both ways - sometimes they've overcharged, other times they've undercharged. John Hempfling, the Chief Litigation Counsel for Whole Foods, says that "Occasionally there will be human error, but there's no system to overcharge or upcharge customers."
Whatever side of this debate you're on, I think we can agree that Whole Foods is taking some good first steps in addressing these errors the right way. Their reaction to these allegations indicates a healthy company culture, a great approach to process improvement, and good leadership.
Admitting that mistakes were being made

The first step to fixing a problem is admitting that you have one. That's exactly what Whole Foods execs Walter Robb and John Mackey did on the Whole Foods blog last week after the NYC Department of Consumer Affairs released a report stating that Whole Foods consistently mislabeled pre-packaged foods in their NYC locations.


Leadership stepping up to collect the blame

In his official statement regarding the mislabeled foods, co-CEO Walter Robb said "Straight up, we made some mistakes, we want to own that." Not "mistakes were made," "employees made mistakes," or any other rewording to attempt to remove the blame from the executives. Executives stepping up to share the blame with the front line employees who made the mistakes is a mark of good leadership.


Blaming processes, not people, for the mistakes

This, I think, is the most important part of Whole Foods' reaction to the report. Rather than identifying who was making the mistakes, they're looking into why the mistakes happened in the first place. Causes such as improper scale calibration, moisture loss, and mathematical errors were identified, and solutions such as improved training processes and third-party auditing are being implemented.


Increasing transparency instead of reducing it

In an effort to regain their customers' trust, Whole Foods is utilizing a third-party auditor to check the impact of their process changes. The result of that audit will be made available to the public, so that we can all see what they've done to address the errors and minimize their recurrence. That's a great way to rebuild confidence in their brand - and a great way to lead a company.


Following up on improvements

Another benefit of that third-party audit is for the Whole Foods execs to get to see how well their improvements are working. It's one thing to implement a new training strategy - it's another to check back in later and see if that strategy is working. Examining the impact of improvements and adjusting them for better results is a critical component of process improvement.
I don't know about you, but these five things are enough to keep me shopping at Whole Foods. Yes, they messed up, and it cost their customers money. But they're also taking a healthy approach to process improvement to ensure the errors are prevented in the future. I look forward to seeing the results of that audit in a couple of months!