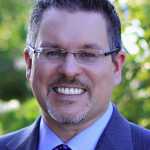 Mark Graban is a consultant, author, and speaker in the "lean healthcare" methodology. Mark is author of the Shingo Award-winning books Lean Hospitals and Healthcare Kaizen, as well as the new Executive Guide to Healthcare Kaizen. Mark is also the VP of Customer Success at KaiNexus.

Check out this awesome video of a recent interview Mark did with our partners at Gemba Academy! In it, Mark discusses:

Video Highlights:
"The focus on is implementing a very high percentage of your ideas, like you would see in Kaizen. So instead of 2-3% (as is the case with typical with suggestion boxes), we have some of our customers implementing more than 80-85% of their ideas."
"Our system easily allows people to not just create a repository of what's happenened, but also to talk about qualitative and quantitative benefits."
"Senior leadership says 'we know there's a lot of improvement happening... but have no clue about what the benefits are...' - Our software can help people see that at different levels."
"The more changes you help people implement, the more they're going to do. The faster you implement things, the more they're going to do. We have customers that were doing a lot of great Kaizen work without software, so when they've added the software they're implementing a higher percentage of ideas, they're implementing them more quickly, and it's easier to share and spread the ideas and easier to add up the benefits."
Want to learn more? Register for our upcoming webinar:
Thursday October 28 from 1-2p EDT
Register for this webinar now to learn:
How organizations are using daily huddles to improve communication, build teams, and drive continuous improvement
How leaders are "going to the gemba" to lead in a collaborative, coaching style
How leaders use run charts and data to make better management decisions

How KaiNexus supports and facilitates these management practices