I'm very pleased that we'll be hosting a great webinar on November 29th titled "When Leaders Collaborate: Finding the A-Ha Moments that Lead to Lean Transformation." The presenters will be John Toussaint, MD the CEO of Catalysis (formerly the ThedaCare Center for Healthcare Value) and he'll be joined by Paul Pejsa, the director of their Healthcare Value Network initiative.
You can register for the webinar here.


---
November 29 from 1:00 - 2:00 pm ET

In this webinar you will:
Discover the three primary benefits of collaborating with peers

Hear real-world examples of lean collaboration results

Create an action plan to enhance your collaborating to drive lean transformation




---

I was able to have a quick preview chat with John and Paul. It's part of our podcast feed and I'll share some highlights below.
Listen to the interview and subscribe to the podcast here:
John has been on his "learning journey" about the Lean method for 17 years, first as the CEO of the Wisconsin health system ThedaCare and then as CEO of Catalysis. One key aspect of the efforts at Catalysis is connecting people and organizations to share and learn. "The actual work of Lean in healthcare is actually expanding rapidly," as they learned through a recent survey through the University of California Berkeley that suggested about half of respondents were using the Lean methodology in some way.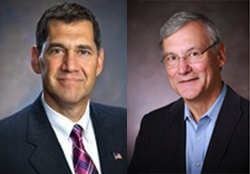 It's important to learn from each other since, as John says, "If you've seen one Lean transformation, you've seen one Lean transformation." Organizations can learn from each other, peer-to-peer, without copying too directly from each other. John calls this process "copy and kaizen (improve)" instead of "copy and paste." Accelerated learning and innovation comes from when people learn from each other and "take it to the next level."
Paul Pejsa joined Catalysis in 2015 after following John's work for about ten years after hearing John present at an AME conference about Lean healthcare, back in a time when there was little collaboration and sharing related to Lean healthcare. There are now about 70 organizations who formally participate in the Healthcare Value Network.
"All of them are committed to transforming healthcare and that common mission is what brings us together," said Paul.
Catalysis believes that peer-to-peer learning increases the probability that senior leaders will engage in leading this Lean process. CEOs can learn from other CEOs, and CFOs can learn from CFOs, which keeps them engaged, which will accelerate the improvement efforts of their organizations.
In the webinar, they will share three different examples of what collaboration looks like. One example is HealthEast collaborating with an architect firm and also with Herman Miller, a great Lean organization, who all worked together with EPIC to help design a "clinic of the future." Everybody learned from the unique efforts of those participants.
The second example takes a look at "revenue cycle" collaboration where two health systems (Intermountain and Cleveland Clinic) learned from each other to help resolve some financial pressures they are under, as all of healthcare is.
Finally, they are going to talk about their "Lean Coffee" discussions that take place in the Indianapolis area to learn and share on a monthly basis, which has led to some specific improvements as well.
In the webinar, they'll make the case that sharing the "good, bad, and ugly" leads to benefits for all. I hope that you'll consider attending even if you work outside of healthcare, to learn about collaboration and to build on what was shared by the Iowa Lean Consortium in their recent webinar that we hosted.