Lean transformation is rooted in collaboration and transparency.
It's also full of "a-ha moments" that organizations can share one with one another to drive continuous improvement. When KaiNexus sat down with Dr. John Toussaint and Paul Pejsa—CEO and Network Director of nonprofit education institute Catalysis—we discussed these moments in more detail.
You can view the webinar here:


Presented by... John Toussaint, MD and Paul Pejsa of Catalysis

In this webinar you will:
Discover the three primary benefits of collaborating with peers

Hear real-world examples of Lean collaboration results

Create an action plan to enhance your collaborating to drive Lean transformation
In case you're short on time, here's the skinny on this webinar.


As Leaders Learn, They Become Teachers
Catalysis is working to transform the existing healthcare delivery model into a Lean healthcare delivery model. Regardless of your own industry or sector, you can complete the same transformation.
How? By engaging in peer-to-peer learning. The Catalysis Healthcare Value Network (CHVN) reveals that the most effective change-makers share a spirit to learn from and collaborate with others. In this vein, here are the benefits of building a collaborative network:
Accelerates organizational and industry-wide Lean transformation
Increases the likelihood of engaging senior leaders
Reduces the cost of implementation by avoiding known pitfalls and barriers
Identifies new improvement areas, as collaborators are willing to share their own experiences in a safe environment
According to Pejsa, private-sector members of the CHVN in particular state that they have never before been around such honest sharing. This is where collaboration and transparency are critical.


You Can Learn from Others' A-Ha Moments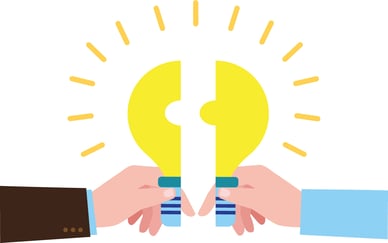 Consider your organization. Then, read the following aha moments CHVN members have had as a result of collaborating with one another:
Looking outside of your own organizational systems can bring fresh eyes to the table, and advance thinking that doesn't exist yet in your industry.
You can learn a fair amount in a phone call, but there is much more to be learned in site visits and other in-person interactions.
You are not alone. Your peers are tackling the exact same issues—and sharing promotes faster collaboration.
There are others in your geography who are trying to solve the exact same problems. Let them in to embark on the same Lean journey.

Can you apply any of these key takeaways to your own organization? What about your entire industry?
Catalysis believes you can, and KaiNexus agrees wholeheartedly.
The idea is that whether you work in healthcare or manufacturing—or in another industry—you can join forces with like-minded leaders and learn from their techniques. Then, you can give back and share some of your own strategies for driving Lean transformation.
This is also where a Lean Coffee may serve you—a meeting designed for participants to share their successes and failures. In Indianapolis, these meetings have had a snowball effect, and attendance has grown from five people to more than 50 participants.
Ultimately, as long as you understand where your organization is at in its Lean transformation, you can absolutely learn from others. Pejsa told us he recently heard a former Toyota executive share that after four decades, the organization knows a thing or two about Lean transformation—but there is still so much to be learned.
Given Toyota's status as the pioneer of Lean transformation, this insight is nothing short of humbling. We can all learn from one another.