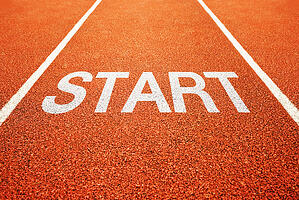 The Merriam-Webster dictionary defines "beginning" as "the point or space at which something starts." I really love that way of describing it. It's optimistic and exciting. Beginnings usually are. It's after the beginning that things tend to get complicated. For organizations that want to get started with continuous improvement, there are some things you can do to make the initial excitement and optimism last despite the inevitable complications. Here are a few.
Don't Ask, "Are We There Yet?"
From the outset, it is important to realize that continuous improvement is, well, continuous and ongoing. Making the commitment to this approach to business is not like most other projects. In fact, it's not a project at all! It is a systemic change of mindsets and action that will play out over the long term. Some people talk about "implementing" continuous improvement, but we prefer to talk about "practicing" continuous improvement because it's a journey, not a destination. You will never finish, but you have to get started... and keep going.
Have Patience
When you are getting started with continuous improvement, it is important to have patience with your team as well as yourself. You must communicate clearly to the entire staff what you mean by continuous improvement and why it is important. Acknowledge that this new approach may be awkward at first, but that the benefits to the company, customers, and employees are worth the effort. Some degree of skepticism or resistance is normal, but it can be overcome with a few quick successes. You should also cut yourself a little slack if everything doesn't go according to plan. Even organizations that now appaer to be experts at continuous improvement have experienced rocky starts.
Learn from Others
There are a number of professional membership organizations devoted to bringing together people who are involved in the practice of continuous improvement. ASQ (American Society for Quality) is an example of a global community of people dedicated to quality who network to share ideas and insights. The ASQ Lean and Six Sigma conference in Phoenix, being held in March 2015, is an opportunity to gather in person and learn from people who have "been there and done that." Also recommended is the annual Lean Healthcare Transformation Summit, held each June, that is produced by the Lean Enterprise Institute and the ThedaCare Center for Healthare Value. There are also several LinkedIn groups devoted to continuous improvement and related topics. These can be an excellent resource for those just getting started and seasoned veterans alike.
Get the Tools
There are many training and certification options available to help your team understand how to embrace continuous improvement and why they need to do so. Although formal training isn't necessary, it can be a helpful way to accelerate your journey. Using a consultant might also make sense for your organization. In addition to training classes and consultants, consider using a software platform to support your efforts and signal the importance of the initiative to the organization.
These are just a few of the things to keep in mind as you get started with our continuous improvement practice. We invite you to view a recording of our webinar, "Getting Started with Continuous Improvement: Lessons and Reflections." In it our panel shares their experiences in their first years with continuous improvement, including things that went well and those that didn't.
For more information, check out our free eBook:
See what the three critical elements to creating a culture of continuous improvement are, and learn how to make sure you have them.