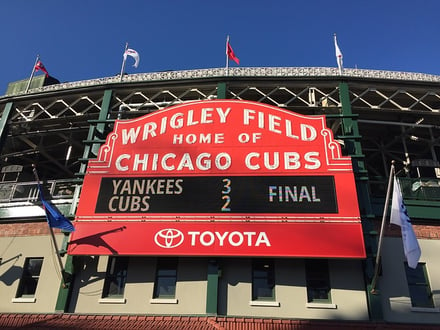 Being an avid reader and a huge Chicago Cubs fan, when 2x World Series Champion and Dancing With The Stars Runner-Up David Ross announced his book Teammate: My Journey in Baseball and a World Series for the Ages, I knew it was going to go to the top of my reading list.
Teammate chronicles some of the lessons that "Grandpa" David Ross learned in his 15-year career as a Major League Baseball player and details the magical Game 7 that ended the Chicago Cubs' 108 year World Series drought.
Whenever I read a book, I try to apply myself to the situations discussed. How does this affect my personal life? How can I apply what I learned to my work at KaiNexus? Oftentimes, this can be difficult depending on the book's subject. The Devil In The White City: Murder, Magic, and Madness at the Fair That Changed America by Erik Larsen may not be as applicable to me as Start With Why by Simon Sinek (but both are highly recommended!).
Reading the behind the scenes of Game 7 of the World Series and hearing about some of the lesser-known details of Ross' career made for a pretty fascinating read. However, the passage at the top of page 231 struck a chord with me:


Theo learned the importance of being honest from former player Craig Shipley. Shipley said, "Theo, don't you get it? Every single player in every clubhouse in the big leagues has either been lied to by management or expects to be." It shocked Theo and he never forgot it as he started to gain more responsibility in the game.

He believed that if an organization could create a culture where players knew they were being told the truth, it would be a big competitive advantage and would help nurture great relationships and a great environment where players could relax and be confident and be themselves around management. Put building trust and acting with integrity on the same level as winning. If you can find that equilibrium and that environment, really good things follow.

Listen to this Post and Subscribe to the Podcast:
Sound familiar?
Trust between staff and management is one of the most important building blocks in a culture of continuous improvement. Building that trust can often be very difficult. I'm sure that the quote "Every single player in every clubhouse in the big leagues has either been lied to by management or expects to be" resonates with almost everyone at some point in their career. Of course, they aren't professional baseball players, but employees can still make the connection to themselves and their management.
Managers lying to their staff members erodes the trust between the two groups and effectively makes the organization less efficient as staff members never know what is the truth and what is not. Being promised a promotion or a bigger role in the organization comes as empty praise when actions are not being followed through and encourages less effort by staff members when they know that their managers will not reciprocate.
A culture of continuous improvement looks to rebuild the bridge of trust that has been broken so that employees and managers can work together to create "great relationships and a great environment." A professional sports team that does not trust each other and work together to get better every single day will never succeed. The same can be said about organizations in any industry - healthcare, manufacturing, financial, design, or produce.
Here at KaiNexus, I know that we have built a culture and environment where the staff knows that they will not be lied to, and in turn, that they can go speak to their boss about any way to improve that they can think of. The great relationships between teams in our organization allow for us to push each other and succeed in supporting our customers that are all working toward the same thing - building a culture of continuous improvement.