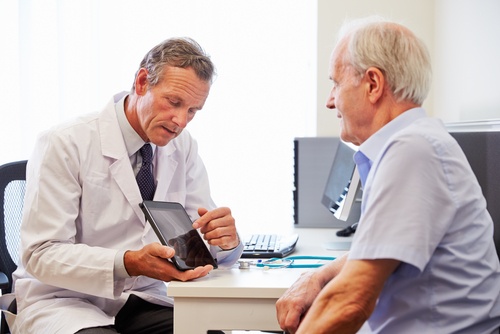 If you've been following our blog, watching our webinars (which are available on demand), or listening to our podcasts for a while, you'll know that we love collaboration here at KaiNexus. Probably the most important collaboration possible is the kind that happens between patients, their families, and their healthcare providers. This type of collaboration happens to be the topic of a recent webinar hosted by Mark Graban, our Vice-President of Improvement & Innovation Services, titled Teaming with Patients to Improve Safety.
Graban sits on the board of directors for the Louise H. Batz Patient Safety Foundation. To talk about the foundation and its important work in helping patients and healthcare professionals recognize the importance of involving patients and families as partners in their care Graban spoke with Laura B. Townsend, Elise Matocha, and Carol Wratten, respectively.
Laura B. Townsend is the Co-Founder & President of Louise H. Batz Patient Safety Foundation. Laura began the webinar with a story about her mother, Louise H. Batz.
"In April of that year, 2009, my mom decided to have knee surgery. She had to have total knee replacement, and she'd really done her research. We'd grown up in the medical community in San Antonio, we have five doctors in our family, and so we really felt we knew how to navigate the system. She was so prepared for it, and everybody told us this was no big deal, that she was going to be in and out in three days and no problem, they did this every day," Townsend began.
After the surgery, the doctor told them they were pleased with how the procedure went and that her mom had a beautiful new knee. After Louise was moved to the orthopedic unit, she was given two mg of morphine through a patient-controlled analgesia (PCA) pump. Later that night she felt a bit nauseated from the soup they gave her for dinner so she was also given a drug called Vistaril to help her with that before getting a visit from her grandkids. After that visit, Townsend, her father, and her aunt spent about 30 minutes asking a very helpful nurse a lot of questions about how the night looked for her mom. She was told that at midnight she was scheduled to get more morphine and Vistaril as well as a narcotic, Demerol.
"That kind of took us back, we thought that seems like a lot of medication for someone who has never taken anything more than Advil," Townsend said.
After asking what level of pain her mother was in and discussing her needs, everyone jointly made the decision that Townsend's mother would only have the morphine if she required it and that she didn't need the other medications at all. After that, the family was asked to go home so that the patient could get her rest.
By 3 am that morning Townsend received a call asking her to please hurry and get back to the hospital as her mother was having trouble breathing.
"Then I got to the hospital and I saw a security guard outside my mom's door. I started running, I left my dad behind," Townsend said. "I looked in the room and I thought my mom, I thought my mom was already dead because she was just lying lifeless on the bed and they were only doing hand-held oxygen at that point to help her.
"I didn't understand what had happened. And you realize why they have a security guard outside the door is because it feels like 20,000 knives have just gone through your body.
"It turned out that they had given my mom morphine and the Demerol and the Vistaril at night and they had no monitoring on her, so she went into respiratory depression and suffered anoxic brain injury [injury that occurs when the brain receives no oxygen]. It did not take us long to realize that my mom had suffered a preventable medical error."
Louise was put on life support, where she would remain for 11 days.
"During that time I did a lot of research, wondering if we were the most unlucky people in the world or if this happens to other people. We were just so shocked, to see that over 200,000 people a year die from preventable medical error, making it the third leading cause of death in this country behind heart disease and cancer. How did that happen? How did we not know this? How is this such a huge problem and we never talked about this as a family, a medical family?"
After those 11 days, on April 26, Townsend and her family had to take Louise off of life support.
"It's not like it is in the movies that's for sure; it's a terrible, horrible thing. I said goodbye to my mom, and that night, after my mom passed away, we wrote the mission for the Louise H. Batz Patient Safety Foundation," Townsend said. "We weren't going to let other families experience the pain that we went through."
Townsend said that San Antonio Hospitals really rallied around the family as they reflected to come up with the three reasons they felt Louise died that day. The first reason was that, though there was a great family, great nurses and a great doctor behind a great patient, there was no teamwork. A lack of technology was also a factor, as Louise was given narcotics she was never given before without any life-saving monitoring on her, at the same time sending her family home. Finally, one contributing factor to Louise's death was a lack of knowledge, meaning that while Townsend and her family asked a lot of questions that day, they didn't ask the right ones.
To combat that last cause, the Batz Foundation has been creating Batz patent safety tools to help patients ask the right questions. These tools include several different guides for adult and pediatric patients in several languages, as well as a free application for most devices.
"It's really about improving our health literacy, and how do we have the right questions to ask our healthcare providers. These really create that bridge for families and patients to become part of the team," Townsend said.
To distribute the guides the Batz Foundation has partnered with many companies and health care providers.
One of those providers is Seton Healthcare Family, also known as Seton Family of Hospitals, the leading provider of healthcare services in central Texas, serving 11 counties.
Elise Matocha, the Bone and Joint Care Coordinator for Seton spoke about the process of how they introduce the Batz guide to patients on the webinar.
"We have a preoperative class, it's a bone and joint class," Matocha explained. "We're preparing the patients for what they need to know: what they need to do to prepare for the surgery, what to expect when they're in the hospital, and preparing at home, making sure that they're going home to a safe environment, and we also go over their rehab expectations. We want them coming in as healthy as possible, we want them to stay healthy while they're here, and then, of course, go home healthy. So, we explain that we as their caregivers, we have a big role to play in making sure all of that happens, but that they also play a role, and a big part of that role is being their own advocate, feeling free to speak up and verbalizing to the staff, the surgeons, the physicians working with them, any concerns that they have."
Patients are not only asked to attend the class but also to have a "copilot" join them. All attendees are given an overview of the guide itself as well as the Batz mission and story.
"We don't have a whole lot of time to do that because we've got a whole lot of information crammed in that class, but it's basically like a show and tell," Matocha said. "And we're proud to say that Seton is partnering with the Batz Foundation to encourage patients to be their own advocates. We want them to feel free to speak up. We explain that the guide tells them what to watch out for, what to be aware of while they're in a hospital setting, and that it can also be used as an organizer of their health information."
A few years ago, when Seton first brought in the Batz foundation tools, they had some initial concerns, worrying that it would create more suspicions instead of alleviating them, which might in turn increase nurse time spent at the bedside.
"The culture wasn't quite as transparent as I think it is today, we thought that it would make them more fearful and less trusting and that the staff would then be more hesitant. We didn't want them to be defensive," Matocha said. "What we found, is that it was quite the opposite. The patients and the families are actually less anxious."
Matocha said that when explaining the guide to the class she has noticed participants relaxing and shaking their heads in agreement.
"It's all about being real and honest, and planning ahead and I think they see that - it helps them to see that," She added. "Most of our patients have very positive feedback that it's helpful information and it made them feel more comfortable knowing that we're encouraging them to speak up, that we know that they are informed, that they're watching us, and that we're ok with that. I think that really says a lot."
Dr. Carol Wratten, Chief Quality Officer for the Seton Healthcare Family, introduced Seton Healthcare to the Louise H. Batz Patient Safety Foundation.
"She really was the driving force in getting us to see that this is something that we really needed to do for our patients, so we appreciate her for that," Matocha said.
Wratten was the Chief Medical Officer at Baptist Health System when Townsend's mother died, and worked with her on and off to get the initial concept off the ground.
"I'd experienced myself as a new healthcare provider, early when I was in medical school and then when I was in my residency, serious family illnesses and then death and was very frustrated as a family member (even though I was in the healthcare industry) with the resistance of the healthcare industry to really bringing the patient voice into being members of the healthcare team," Wratten explained. "Healthcare is traditionally paternalistic and that structure of paternalism can't keep patients safe. Patient safety requires that patients recognize and accept their responsibility to be actively involved in all the details of aspects of their care and for providers to also recognize that.
"So, this is a culture shift that we're trying to implement, and culture change is not easy or quick, it takes time and it takes an ongoing commitment. I was at Seton for probably almost a year trying to understand the culture and the staff before we really had enough traction to implement the guide. I think Elise will testify that it took a year to really get the staff accepting and the patients accepting, and to really learn on the ground, feet on the ground, how to develop that relationship with the patients. Orientating new staff and now orientating residents is another innovation in how do you really not only change the culture but sustain that change."
In the webinar, Wratten listed many of the critical steps that they have learned are helpful in creating the culture change for patients and the healthcare provider community. Wratten also shared testimonials from different staff members in organizations the Louise H. Batz Patient Safety Foundation is working with that speak to how important the tools are in keeping patients safe.
"I think this is testimony that no healthcare provider goes into healthcare to hurt people, they are mission-driven people and these tools help them fulfill their own mission in addition to what it does for their patients, it does the same for providers," Wratten said.
Townsend pointed out how these testimonials from staff, and the patient feedback that Matocha experiences have completely changed the narrative for the Foundation.
"We started with my mom's story, we started with the tragedy, but these stories that you hear from Elise and Carol, they're the ones that are of hope, and that's what my mom was so full of, she was so full of hope and love, and faith," Townsend said. "We know this is where we need to go in healthcare, we need to change the culture, we need to bring families and patients in to become part of the team, and I think once we do, we will get to zero. We will get to zero preventable medical errors."
If you would like to learn more about the Batz Foundation, you can check out the full webinar here. If you would like to support the Batz Foundation while learning more about Lean, you can grab a copy of Practicing Lean – A Book (and Audiobook) About Our Lean Journeys, edited by Graban. Proceeds from the sale of that book are donated to the non-profit Louise H. Batz Patient Safety Foundation.