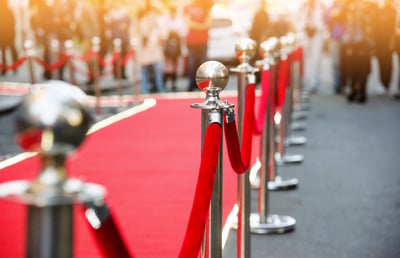 It's that time of year when all of the celebrities get dressed to the nines and viewers at home sit back and root for the movies, shows, and stars they love best. Hollywood enjoys its season of recognizing the outstanding work of the past year and acknowledging the contributions of people who aren't always in front of the camera.
That got us thinking. If Hollywood can congratulate itself, why can't there be a pause to show appreciation for everyone in our organizations who helped to make 2019 a little bit better? If there were a red carpet for positive change, what awards should be presented?
Here's what we came up with.
Best Small Idea
Sometimes people think that improvement has to be revolutionary and easily observable to matter. But that's not the case at all. Small incremental improvements can make an important difference even if the outcome only makes things better in a difficult to measure, but meaningful way.


Most Observant
For your organization to engage in positive change, opportunities for improvement must be spotted and documented. Usually, there are a few folks who are excellent at noticing when something can better and submitting the idea for consideration. These are your nominees for most observant. (If you are using improvement management software, identifying them is a piece of cake.)


Team with the Highest Engagement
Ideally, everyone in the organization will be an agent for change, but most leaders find that one or two teams excel at implementing improvements. Just like you can tell when the cast of a movie is perfectly in-sync, you can tell when one of your units is firing on all cylinders. This situation should not go unrecognized.


Highest Impact Improvement
Small improvements are what make an organization thrive, but once in a while, someone delivers an unbelievable performance. With the right technology in place, you can measure the short and long-term impacts of every change. You might be surprised just how significant some of them are. Keep in mind that high impact doesn't only apply to financial measurements such as reduced cost or increased revenue. You may have high impact improvements to recognize in terms of safety, customer satisfaction, defects, or time to market.


Most Effective Coach
While most improvement work is driven and completed by front-line employees, their managers deserve credit for creating the conditions in which positive change can be achieved. Effective coaches don't jump in to solve problems at every turn; instead, they help employees become skilled at identifying and resolving friction in processes. Who on your team has helped to develop employees who get better at problem-solving with each passing day?


Technical Merit
Leaders talk a lot about making data-driven decisions and managing key performance metrics. We arm our teams with software to make data collection and analysis possible, but it's rare for those who are diligent with their use to be called out for their attentiveness. It's much easier to get frustrated when people don't use the systems as intended than to notice and appreciate when they do. Do you have someone who's control charts are off the chart? Or perhaps a digital diva with a special ability to capture every bit of information about a Kaizen event? Let these stars have a minute to shine.


We don't think it's great to set up a system where there are winners and losers, but thinking about the categories has been a fun thought exercise. Perhaps you can use these ideas as a jumping-off point to go out and find the folks in your organization that deserve a round of applause.