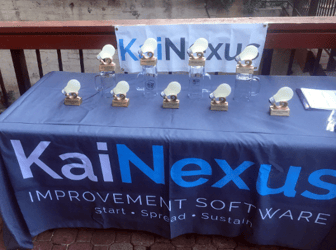 One thing that we look forward to the most every year is our Annual Nexie Award Ceremony. Although we're not able to see each other in person this year for our KaiNexicon User Conference, we still want to take the opportunity to recognize some of our amazing customers! If you've been lucky enough to attend a KaiNexicon User Conference, you are probably aware of our esteemed Nexie awards. The KaiNexie Award Ceremony is our way of honoring our customers for their hard work and commitment to excellence throughout the year.
Now, drum roll, please….
Here are the 2021 Nexie Award categories and winners:
Guiding Light Award is Presented to Electrolux
The Guiding Light Award goes to Electrolux! Sandro, Leticia, and the entire Electrolux team work hard not only to make KaiNexus better for their team but KaiNexus as a whole. They play a significant role in guiding the development of KaiNexus, giving us invaluable ideas that have made KaiNexus better for all of our customers. Our new Fishbone diagrams are an excellent example of something that originated with Electrolux. You make us better each and every day!


Honorary KaiNexian Award is Presented to Oceania Dairy and Westland Milk Products
Our Honorary KaiNexian Award goes to Oceania Dairy and Westland Milk Products. This team goes above and beyond in implementing KaiNexus into their processes and company culture. They have lots of KaiNexus spirit— they even host their very own Nexies! Their team has a deep understanding of KaiNexus and works hard to increase the KaiNexus knowledge of their organization - resulting in significant usage and communication. They embody an authentic continuous improvement culture, and their dedication is an inspiration to us all.


Implementation Team of the Year Award is Presented to Jack Henry & Associates
The Implementation Team of the Year Award goes to Jack Henry & Associates. From the beginning of their rollout, they created an extremely strategic plan with very clear and realistic goals. Their champion understood the complexities of deploying a system like KaiNexus at scale and tackled them head-on. Jack Henry's commitment and dedication to this rollout is incredible, and we can't wait to see what the future holds for them.


Helping Hands Award is Presented to Gilead Sciences
The Helping Hands Award goes to Gilead Sciences. They have done an incredible job at spreading Continuous Improvement and KaiNexus in their organization. What started as a single department became several Gilead teams across the organization using KaiNexus. As they expanded the use of Kainexus, they continued to standardize process prioritization and documentation successfully. Gilead is an excellent example of a great partner!


Outstanding Branding Award is Presented to The Wonderful Company
The Outstanding Branding Award goes to The Wonderful Company. When we talk about branding at KaiNexus, The Wonderful Company is one organization that always comes to mind. The team at Wonderful utilizes our branding feature to ensure that their KaiNexus instance is consistent with all other areas of their organization. They've helped pave the way for many of our branding enhancements and have set an example for our other customers. Thank you, Wonderful Company!


Fearless Leader Award is Presented to Pella Regional Health Center
The Fearless Leader Award goes to Pella Health. Our Champion, Tory Schrock, has gone above and beyond as a partner to us. She continually advocates internally for KaiNexus and comes up with innovative ways to add new workflows and processes that drive platform adoption and engagement throughout Pella Health. Tory is always thinking of ways KaiNexus can help make others' lives easier by capturing information in one place for everyone to access. Thank you for being an excellent partner, Tori!


Guts and Grit Award is Presented to Clorox
The Guts and Grit Award goes to Clorox! This past year has presented Clorox with unprecedented challenges. Due to the pandemic, their team had to rally like never before to keep our communities safe and stocked with Clorox products. But even through this unimaginable period, they never gave up on KaiNexus. Even if the implementation timeline was extended, they stuck through and committed to KaiNexus the entire time. Thank you for all you do, Clorox!


Extra Mile Award is Presented to Woodfin
The Extra Mile Award goes to Woodfin! The effort by Evan and Bob has been monumental throughout our partnership. They are fantastic at finding bugs, asking questions, and overall helping to make KaiNexus better. Evan and Bob are always willing to share their insights and experience in KaiNexus webinars so our other customers can learn from them. They always go the extra mile, and we are proud to work with them!


Greg Jacobson Award is Presented to Analog Devices
This award is named after the co-founder and CEO of KaiNexus, Greg Jacobson, who brings an improvement mindset to everything he does. This focus on making the world better is the driving force behind the team here at KaiNexus, and we're presenting the Greg Jacobson award to a company with a similar focus on improvement: Analog Devices!
The Analog Team is lean-minded and focused. They implemented a strategic rollout, coordinating heavily with our team and setting themselves up for success. They even hosted us for a few days in Limerick, Ireland. Not only do they execute well for their team, but for the benefit of others too. They always approach problems by asking, "how can this be applied and used for the greater good?" They help make us better every day!


Rookie of the Year Award is Presented to UMass Memorial Health Care
The Rookie of the Year award goes to UMass Memorial Health Care. Umass is nothing short of an incredible partner to KaiNexus. They set themselves up for a successful rollout by having a highly organized implementation team, hosting internal office hours with their team for KaiNexus questions, dedicated resources to ensure things go smoothly, and the devoted champions and senior leaders necessary to make all this possible. We can't wait to see you continue to grow!


Lifetime Achievement Award is Presented to South32
The Lifetime Achievement Award goes to South32. South32 has truly played a huge role in developing our company - our platform wouldn't be the same without them. For the past five years, South32 has been and continues to be an incredible partner to us, and many of our enhancements stem directly from them. Not only are they devoted partners, but incredible people to work with as well. Thank you, South32!


Lean Multiplier Award is Presented to Abbott Laboratories
The Lean Multiplier Award goes to Abbott Laboratories. Sean Kelly and his team are incredible partners to us. They are an example of a genuinely perfect customer who is heavily engaged and invested in continuous improvement culture. They are always the team we go to as a reference for another customer. Beyond just being a reference, they are always willing to help other customers brainstorm as well. They continuously spread a lean mindset not only at their organization but with other KaiNexus customers as well.


Passing the Torch Award is Presented to GreenState Credit Union
The Passing the Torch Award goes to GreenState Credit Union. As we transitioned champions from Pam to Michelle and Bri, this team didn't miss a beat. Pam created a strong foundation and partnership, and Michelle and Bri were quick to learn the ropes. They love the concept of Continuous Improvement and have made it a point to do things on their own to build this CI culture. We are lucky to have great champions like these!


We want to thank each and every customer for giving us an opportunity to partner with them. Our customers help us become better every day. We look forward to seeing what we can accomplish together this year and beyond. Congratulations to all our 2021 Nexie winners!