It may be August, but we did some Spring Cleaning in this Release! KaiNexus 3.0.5 introduces several new features aimed to reduce screen clutter and unnecessary clicking. Along with these new features, we made a plethora of minor UI enhancements and cleanups throughout the platform and added some improvements to Statuses, Teams, and Shared Lists. KaiNexus 3.0.5 is scheduled to be released this Friday, August 12th. Check out some highlights below:


Quick Create to Nested Item Lists
Meeting with your team and need to capture several action items quickly? No sweat! You can now use the new + Quick Create button (located in the bottom left corner of a Nested Item List panel) to easily create new Items nested within the Parent Item. Selecting this button displays a dropdown menu with options for which kinds of Items you can create to nest in the List. Quick Create can be enabled in List view.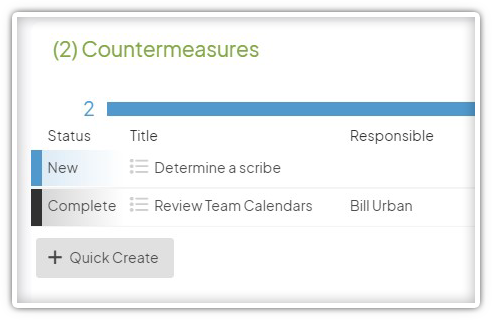 Inline Editing on Item Lists
You can now edit Items directly from an Item List! In List view, Tree view, and Gantt view, cells you can edit show up in gray when hovered over, and your pointer changes to a traditional text-editing cursor. Selecting the Item's name still opens it, and you can change the name by selecting the pencil icon that displays when you hover over it. Inline Editing provides a more intuitive and user-friendly experience for users when editing Items.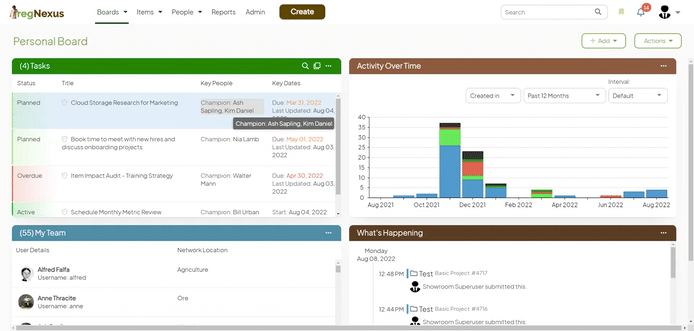 Introducing Date Quick Filters
Our previous Release added customizable Quick Filters to the Item section and Boards. This Release adds additional Quick Filter options in the form of Date Filters! This allows users to more easily filter Boards and Lists for different time ranges without having to use the Item Filter. Date Quick Filters offer an improved calendar selector and provide even more utility to your Lists and Boards. For example, this is helpful for Executives who want to quickly see data from a certain time period appear on their Board.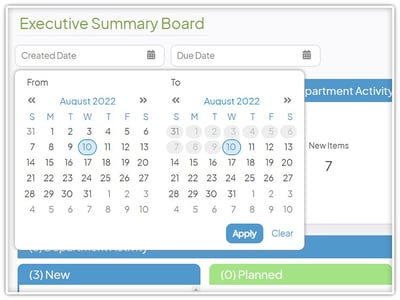 Status Picker Label Changes
Status Picker labels now align with the Item Statuses in Kanban, making selecting a Status more intuitive. Additionally, you can now add Customizable Tooltips to the Status Picker, globally or per Template, giving you the freedom to explain the Statuses to your Users in your organization's own internal terminology.



Key Dates & Key People Columns
Depending on an Item's team type and/or status, there are certain dates or Team Roles that people are most interested in seeing. Knowing this, we created a pair of "smart columns" called Key Dates and Key People that automatically show the most important dates and people for that Item in that Status in Gantt, List, and Tree view.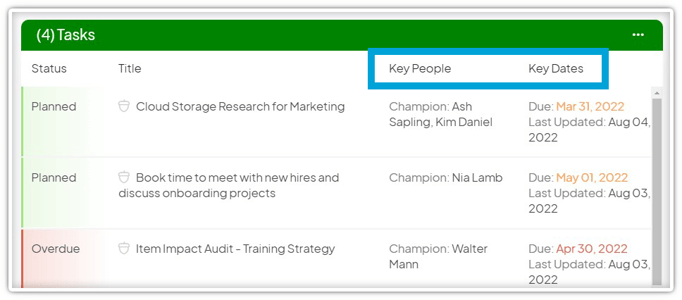 "Team Roles" Columns
When you look at a person's Activity from their User Profile, you'll now see their "User's Team Role" for each of the Items, without having to click into each Item, and you can add a "My Team Roles" column to any List to track your own participation on Items. This allows you to quickly gauge a user's capacity.



New Notifications for Shared Lists
Users who have had a List shared with them will now see a blue dot on the Items section, signaling to them that there is something new they have not yet seen. The blue dots will guide them to where the newly shared List is located within their Items section and will disappear once the newly-shared List has been viewed.
Additionally, we wanted to have a way to notify the person that a List has been shared with them who is not logged in, and therefore prompt them to log into the platform to view it. When you share a list with someone, they'll get an email with a link to the List and information on their permission level (Viewer/Editor/Owner) for that list.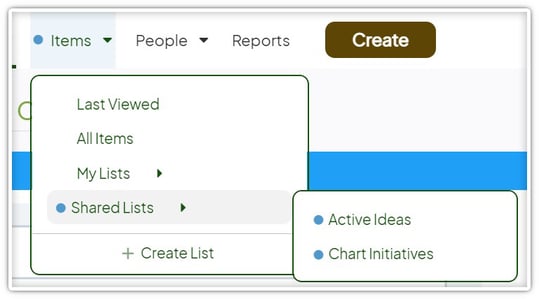 In the meantime, if you have any questions or need assistance with the configuration of these new features, be sure to reach out to your KaiNexus Customer Success Manager. An overview and complete release notes can be found at support.kainexus.com under "KaiNexus Updates" after the release goes live.
If you're interested in learning more about the 3.0.5 Release, be sure to register here for our next Training Team Office Hours Webinar on August 25th from 1:00 - 1:30 PM ET.
This has been your Customer Marketing Manager, Morgan Wright. Keep Improving!