We are fall-ing for our new release, and we think you will too! KaiNexus 3.0.6 introduces several new features aimed at increasing usability and reducing unnecessary clicking. New features in this release include In-App Badge Notifications, additional Inline Editing access, and more. KaiNexus 3.0.6 is scheduled to be released this Friday, September 16th. Check out some highlights below:


Inline Editing on Work Panels
In our last Release, we introduced Inline Editing on Item Lists. Now Inline Editing is available on Work Panels too! With the introduction of Inline Editing to Item Work Panels, it's now easier than ever to quickly update your Items. Just click directly on the Field or Attribute you want to change and make your edits - no navigating popup windows to slow you down.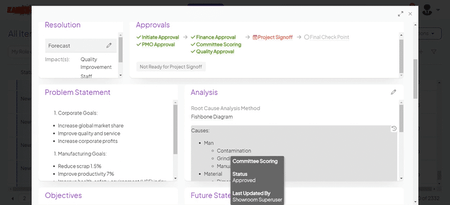 Next/Previous Item
When viewing a List of Items, you can now use the up and down arrows located in the top right-hand corner to navigate to your next and previous Items. Quickly clear your notifications, work through Lists of Items with Milestones or Resolutions awaiting approval, and more. This new action creates a simpler and more user-friendly experience in the system.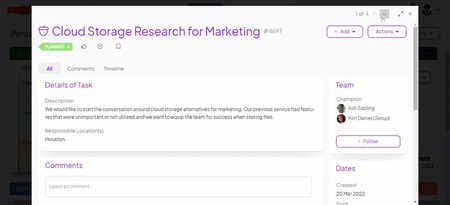 In-App Badge Notifications
Previously shown as a log-in notice, all Badge Notifications can now be accessed from a new icon on the Navigation Bar, indicated by a ribbon icon. This feature allows you to stay up to date with your Badges earned, your Badges lost, or view your organization's Badges as well. Now - it's time to get busy collecting your Badges!
Additionally, it is now possible to filter down the Badges column on a People List to only show Badges awarded within a specified date range. For example, now you can show all Badges awarded to users in the past seven days during a weekly huddle.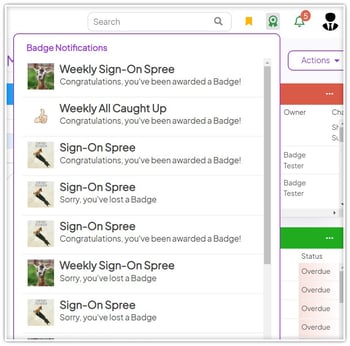 @ Mention Users in Formatting Toolbar
Mentioning colleagues with the @ mention functionality in comments is a great way to pull people's attention where you need it. Previously, the ability to mention users was limited to just comments. Now, users have the ability to @ mention in all Fields that contain the formatting toolbar. Mention someone in places such as an Item Description or Proposed Resolution to make it appear in their Notifications so they can efficiently respond.

Action Menu Column
Introducing the Action Menu Column! We've added a new column with an ellipse icon that will appear to the left of the Title where you can easily access an Actions Menu for that Item. You can do so much more from the List without ever having to open the Item - including things like changing the Status, editing the Team, and adding a Comment.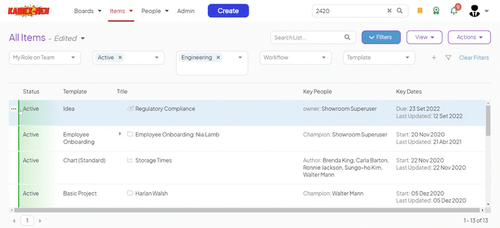 In the meantime, if you have any questions or need assistance with the configuration of these new features, be sure to reach out to your KaiNexus Customer Success Manager. An overview and complete release notes can be found at support.kainexus.com under "KaiNexus Updates" after the release goes live.
If you're interested in learning more about the 3.0.6 Release, be sure to register here for our next Training Team Office Hours Webinar on September 29th from 1-1:30 EST.
This has been your Customer Marketing Manager, Morgan Wright. Keep Improving!