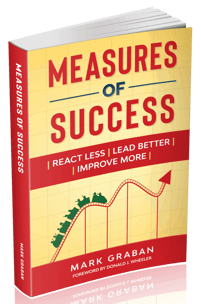 Do you want to lead better and improve more? Of course you do!
Mark Graban, a senior advisor at KaiNexus, has released a new book that will be right up your alley, especially if you use our awesome control charts functionality. There's even a story in the book about how we at KaiNexus have used these methods in our own continuous improvement journey.
Our CEO Greg Jacobson, MD says,
"Mark Graban taught the KaiNexus team how to understand the story a metric is actually telling over time. We've saved time by not overanalyzing every up and down in our metrics — and that's valuable time we now put to better use. This new way of thinking also decreases stress, which further helps us do better work. I'm excited that Mark is sharing these lessons through 'Measures of Success,' a book that will help accelerate your progress and lead to better results."
Enter to win one of three signed paperback copies of "Measures of Success" in a giveaway for KaiNexus customers and friends. This giveaway ends on Friday, May 23.