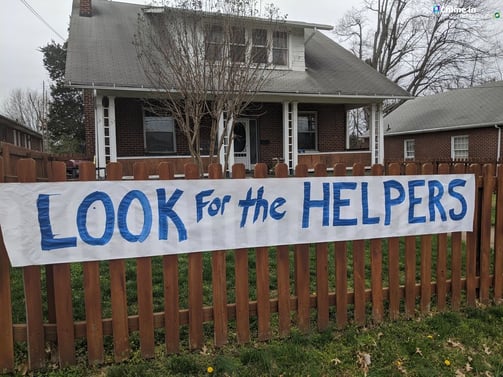 When every day feels like this nightmare we've found ourselves in has gotten worse, and there's no end in sight, it's hard to remember to look for the bright spots. In times of crisis, though, we must remember to - in the words of Mr. Rogers - "look for the helpers."
All over my community, and I'm sure yours, people are coming together to make sure everyone is fed, that local businesses will be able to weather this storm, and that we'll all make it through to the other side in one piece.
Here's an example of "the helpers" that brings me to tears every day when I see it.
In my city, enough of the students NEED free breakfast and lunch that the entire school system just gives it to everyone. When schools around the country started closing in response to COVID-19 last week, my Facebook feed was suddenly full of panicked posts from local friends worrying about how the kids in our city would be fed.
When school officially closed a few days later, we immediately got a call from the school system letting us know that the nutrition team was working on a plan and not to worry. By Monday - our first day without school - they'd figured out how to pack thousands of bags with lunch and the next day's breakfast, and distribute them across the city to every child under 18.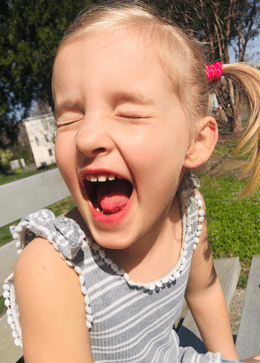 All we have to do is go to the school system's website and look up what time to head to our bus stop. When the bus pulls up, a gloved helper hands down a bag of food to any waiting kid. Families stay off the bus, employees stay on it, and we don't come into contact. When we get home we disinfect the packaging of the food and wash our hands.
I can't describe the joy this brings to my child. I don't know if it's that she really loves school food or appreciates the normalcy of knowing she still gets to see Ms. Tina every day. Look at that face! Whatever it is, the lunch bus is the highlight of every day.
Once I saw this bus program in action, I had to start asking around to find out what other schools are doing well. We all need a little more brightness in our days, right? Maybe you'll be inspired to share these ideas with your own schools, and make this time a little better for all the kids.
A high school guidance counselor says that at her school, each teacher, counselor, and admin is "adopting" 22 kids for a weekly check-in, to make sure they're ok and show them love and support.


A grandmother reports that the Assistant Principal of her grandson's high school records morning announcements with a daily challenge for the students and posts them on YouTube. His videos are funny, positive, and show the students that he and the administration are concerned for the kids and care for them.


A mom in Massachusetts says that her daughter's elementary school sends home daily lesson plans, and that the structure really helps.


My favorite third grader's class meets on Zoom every day at 9:00 and 1:00. They have assignments to do everyday and are encouraged to take enrichment classes like math and computer science through Khan Academy. Her dad says that when she gets on the calls, her whole face lights up seeing her friends. Yesterday they all sang happy birthday to a classmate - surely a bright spot on a lonely pandemic birthday.


A mom in Virginia reports that a nearby school is having a virtual spirit day - a fun way to keep kids engaged and show that the school remembers them.


This one isn't a school, but related - Comcast is giving free internet to families without it in my school system for the next two months. Other providers are doing this as well, along with increasing internet speeds for customers that need it.
Share what your school districts are doing well in the comments below! We'd love to collect some more ideas.