On November 14th, we are excited to be hosting a webinar on Hoshin Kanri (aka Strategy Deployment) that will be presented by Craig Vercrussye and Joanna Omi. Craig and Joanna are both partners with Rona Consulting Group, the Lean practice of Moss Adams.
I managed to snag a few minutes with Craig to get his thoughts and to have a quick conversation about the webinar.
You can listen to the entire discussion here:
Craig and Joanna both previous served in senior executive roles at Sutter Health and the New York City Health and Hospitals Corporation, but their experiences and what they will share about the Hoshin Kanri methodology will be relevant, useful, and helpful for people from any industry.
"Hoshin Kanri is the strategy part of a Lean management system," Craig said and he pointed out that the literal translation of the phrase is "management's compass for setting the direcdtion from management." He added that this approach isn't about "strategic planning," it's about deploying strategy throughout the organization. There's often a gap between the strategic plan and day to day operations. So, "in a Lean management system, strategy deployment allows us to cascade the strategy of the organization to the front lines so we see that visibility very clearly." This then creates a "deeper connection to the mission, vision, values, and strategy of the organization" for those at the front lines.
Craig explained a traditional process where executives go off site to create a strategic plan, but then there's only this "teeny tiny little Excel spreadsheet called an operational plan, which is meant to be a translation point to how you actually make the strategy real in the organization." Too often those reams of paper and binders end up on a bookshelf and it's hard to see how that strategy is played out on the front lines on a daily basis. A full Hoshin Kanri approach, as part of a Lean management system, gives us a better method.


---
November 14 from 1:00-2:00 ET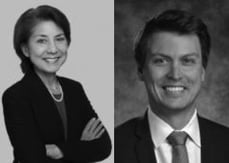 In this webinar you will:
Learn about the purpose and building blocks of hoshin kanri
Understand how health care organizations arrive at and use hoshin
Understand why hoshin is the quintessential PDSA and how experience with small tests of change and A3s create a foundation for hoshin
Learn about some common rocks in the hoshin road and what can be done about them


---

I asked Craig about how Hoshin Kanri is a manifestation of a Plan Do Study Adjust (PDSA) process with a plan that's more iterative than it is carved in stone. "When you think about it, it's a PDSA cycle with a difference cadence. You use PDSA on the front line and the cadence is really fast - what do we need to do in the next hour, the next shift, the next day? When you get to a PDSA cycle at the hoshin level, the cadence is more about what we need to do in the next 18 months or the next three years, five years if you can have a good crystal ball."
Craig added that a Hoshin process adds "Scan" as a step before PDSA, to do an internal and external scan (something you "don't have anywhere else in a Lean management system") to help develop a better strategic plan that can then be better deployed through the organization. It gives you a "grounding mechanism" before you get into the "Plan" phase of PDSA, said Craig.
In the webinar, Craig and Joanna will talk about the "rocks" that you'll tend to find in the road on your journey. One that Craig shared as a preview is "leadership at the top doesn't focus on the must do / can't fail, or the vital few," so they can create focus for the organization. If the top level can't stay disciplined on the vital few, that just cascades down through into the organization and "creates all sorts of resource constraints and stress at the front line."
Please join us for the live webinar by registering here. If you register and can't attend live, you'll be sent a link to the slides and a recording. But, if you attend live, you can ask questions and pick the brains of these two very experienced experts.