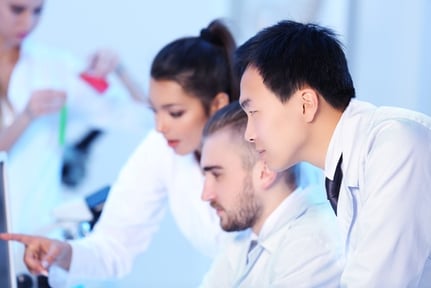 If you do a Google search for articles about Lean healthcare, you'll get tons of options. Here are some articles that I like, written by some of the thought leaders and practitioners I respect and enjoy reading.
One article that's a classic at this point was published in 2005 by the Institute for Healthcare Improvement:


Many organizations today still need to get this important message from the article:
"In order for lean principles to take root, leaders must first work to create an organizational culture that is receptive to lean thinking. The commitment to lean must start at the very top of the organization, and all staff should be involved in helping to redesign processes to improve flow and reduce waste."
Lean is not just a bunch of tools or a sequence of projects. Successful and sustained Lean transformations are based on principles and behaviors. This Lean management system and culture starts from the top - not just senior leaders, but also the board of directors.
I'd also suggest reading anything you can find from John Toussaint, MD, the former CEO of ThedaCare and now the CEO of the non-profit organization Catalysis. One recent article, co-authored with Kathryn Correia (a former ThedaCare leader who was recently announced as the new CEO at Oregon-based Legacy Health) was published on Harvard Business Review's site:
A budding Lean thinker will appreciate Toussaint and Correia's perspective that reminds healthcare leaders that we can't expect technology or software alone to solve all of the problems in those workplaces. They recommend combining methods like Lean (aka the Toyota Production System) and Design Thinking to redesign and reinvent the way people work.
I'd also recommend Toussaint's 2009 Health Affairs article titled:
In that article, Toussaint shared lessons from the early years of the Lean transformation efforts at ThedaCare. As he wrote, ThedaCare and other health systems are "working hard to reduce waste and medical error and to improve quality using methods borrowed from lean manufacturing and the Toyota Production System." We want to see every health system doing that and "working hard" includes engaging everybody in ongoing continuous improvement.
I'd also point you to all of the great work done by Steven J. Spear, PhD, a professor at MIT and the Sloan School of Management. You can't go wrong with any of his articles, but one of the best known was also published by HBR:
Spear writes about how healthcare organizations "often [fail] to deliver on the promise of the science it employs." One powerful way to improve our healthcare system is to engage everybody in being scientific problem solvers, as Toyota would teach and encourage people to do. Spear says we need to reduce ambiguity in the workplace and shift from a "workaround culture" to a culture that gets big results through many small gains.
Professor Spear often writes about safety and quality lessons from aviation and the nuclear Navy. One author, Naida Grunden, I know and respect did a lot to document some of the early Lean healthcare success stories that unfolded in the Pittsburgh area.
She wrote an article for my blog in 2010 that was based on a speech she helped write for her friend Captain Chesley (Sully) Sullenberger about Lean, aviation, and patient safety:
"Captain Sully Talks about Lean and Healthcare Safety"
In that article, Grunden shares Sully's three recommendations for a revolution in patient safety.
I had a chance to meet Sully recently and shared his leadership lessons and the connections to Lean in this article:

"Notes From Hearing "Sully" Speak: Humility, Leadership, And Safety"
Lean leadership starts with humility and Lean leaders make safety a top priority, something that's non-negotiable. Safety first, safety always. And that can't just be a slogan. Leaders are responsible for creating a culture of safety, which means making it professionally safe for people to speak up about risks and opportunities for error.
Speaking of Pittsburgh and safety, one of the leaders in that movement has been Paul O'Neill, who made safety a top priority when he was CEO of Alcoa. Their Alcoa Production System, modeled on Lean and TPS, provides great lessons that can be applied in healthcare.
The last article I'll point you to was written by Toussaint, based on thoughts shared by O'Neill:


Can you answer "yes" to the key questions posed by O'Neill in that article? Are you treated with dignity and respect? Are you given what you need to be successful? Have you been recognized for your efforts?" That's what Lean is all about… in healthcare or other settings.
What other articles would you recommend?