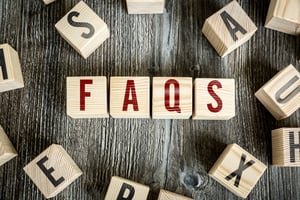 Many of our clients are continuous improvement veterans. They know all of the ins and outs of the tools and techniques designed to support their efforts to get better every single day.
Lately, we've also had a number of inquiries and conversations with people who are new to the idea. Getting to know more about Lean can be exciting, but overwhelming at the same time.
If you've got questions about what it means to introduce a Lean management system, this post is for you.


What is a Lean Management System?
Lean management system can refer to two things. It refers to the business methodology of Lean, which revolves around the central ideas that improvement should be constant, waste must be eliminated, and everyone should be involved in positive change. There are eight wastes of lean; transportation, waiting, inventory, overproduction, over-processing, human potential, movement, and defects. (You can learn more about each of them here.)
Lean management system can also refer to software technology that is used to support the Lean approach to business. Kainexus, for example, could be called a Lean management system, so that's generally how we use the phrase.


Why do organizations invest in Lean management technology?
If you are implementing the Lean approach to business, there are many advantages of leveraging software to support it. Including:
The platform becomes one source of truth for all improvement activities. Information about Lean projects is standardized and unified.
Employees are easily able to report opportunities for improvement at any time, even using their mobile devices.
A Lean management system reinforces Lean culture and creates a common language and set of expectations for improvement work.
Investing in technology signals to the organization that leaders are committed to the Lean way and willing to do what it takes to make people successful.
When improvement work is managed with software, more projects get done quickly.
The Lean management system serves as a repository of knowledge so that people can easily find and learn from what has been done in the past.
Leaders have instant visibility into the health of Lean within the organization.
Goals can be aligned so that each individual, team, and department is driving toward true north.
The impact of improvement work can be easily calculated to keep everyone engaged and excited about Lean.
What do Lean management software systems do?
There are lots of solutions that claim to be Lean management systems on the market, but they are not all the same. The best solutions include the following capabilities:
Opportunity capture - When an employee spots an opportunity to reduce waste, it should be easy to add it to the system for review.
Workflow support - In order to ensure forward momentum on improvement projects, it is necessary to choose a solution with alerts and notifications that let individuals and managers know when tasks are due.
Advanced reporting – When it comes to software, people often focus on getting data in, but getting data out is even more important. The best systems make it easy for leaders to dig into improvement work and understand what is going well and where attention is required.
Collaboration capabilities – Often the most impactful opportunities for improvement involve people from more than one function. A Lean management system is an ideal platform for cross-functional collaboration.
Search – This may seem like an odd feature to list, but it is important. The ability to search for past improvement projects and learn from the outcome is essential for rapid improvement.


What are the keys to success when implementing a Lean management system?
After helping hundreds of people achieve success with Lean, we've learned a few of the most important factors that determine success.
Leadership that is committed to Lean and able to create a culture in which it thrives.
Systems in place for accountability and recognition.
Getting every person from the front-line to the C-suite involved in improvement.
The ability and willingness to set long-term strategic goals and align individual roles toward achieving them.
The persistent belief that there's no such thing as "good enough."
A unified software platform for Lean management.


What are some resources for learning more?
We recommend The Toyota Way to Lean Leadership, by Jeffrey Liker, a Professor of Industrial and Operations Engineering at the University of Michigan and president of Liker Lean Advisors, LLC. This work has been called, "the most important book ever published to understand and guide 'True North Lean' and the goal of perpetual business excellence."
Practical Lean Leadership: A Strategic Leadership Guide for Executives, by Bob Emiliani, a professor, author, and historian focused on leadership and management is also excellent.
We hope this has been helpful. If you have more questions, feel free to drop us a line.