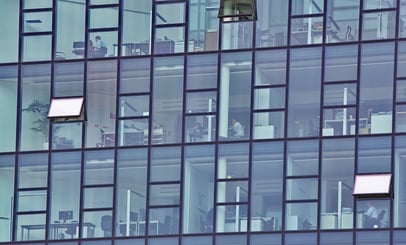 At KaiNexus, we see our customers being innovative all the time through continuous improvement, both large and small. That's why I founded KaiNexus - to help companies spread continuous improvement. We know startups can be innovative, so I was happy to see a webcast last Friday with a senior leader from GE sharing how they are being innovative with Lean Startup methods.
The webcast was presented by Eric Ries and the organizers of the Lean Startup Conference. The moderator was our VP of Customer Success and noted blogger and podcaster, Mark Graban. Mark facilitated the discussion between Eric and Mark Little, the Senior VP and Director of GE Global Research.
Here is the recording of the webinar:
I was impressed with the discussions about how learning and speed to market are important, even for a big company like GE. Getting different departments to work together early on seems to be a key as well, with groups such as Legal and other compliance groups having input early on.
Mark Little told great stories about how groups or individuals, like those who work with the FDA, are often thought of as barriers to innovation - they're always saying no. But, when you get them involved, it often turns out that they can be incredibly helpful in the innovation process.
Check out some thoughts that our own Mark Graban shared about Lean Startup and continuous improvement ideas in hospitals, via his blog post.
As the CEO and co-founder of KaiNexus, I like to think we were, in many ways, a Lean Startup before Lean Startup was even a formal term coined by Eric Ries.
I helped create what was essentially the "Minimum Viable Product" (MVP) version of KaiNexus while back at Vanderbilt. I knew the day in the life of the customer because I was there, in the hospital as a physician. I knew what problems we were trying to solve with technology.
We certainly learned from early efforts (and our early mistakes). We learn by failing early and failing often. Those early lessons were incredibly important to get us to a point where we could bring KaiNexus to market commercially with paying customers outside of Vanderbilt.
Over the past four years, we've had to iterate - not just on the product, but our pricing, and our business model. Being a Lean Startup isn't about "being cheap" or bootstrapping. We've done a lot with our angel investor funds - being responsible and thrifty, prioritizing what we need to spend money on to maximize the number of cycles of learning that we can get through. Our process is founded on respect for people, blaming processes (not people) for failures, and always looking for what we can do better. We do this with marketing process, sales processes, webinar processes, order forms, and so much more. Even our development process speaks to a lean approach, in that we release new versions every few weeks as we continually improve everything. The result is a strong and agile company with customers around the world across the full spectrum of industries.
We're thankful for the ideas that Eric Ries and others have brought to the world regarding Lean Startup and other innovation tactics. It's great to see these methods spread, even to big companies like GE and Toyota. We all benefit when companies are more nimble and can better meet our needs as customers.