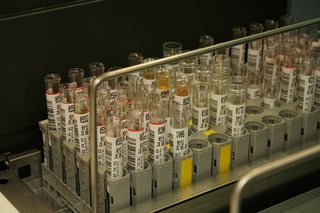 If you learn even just a little bit about the Lean methodology, you'll hear (hopefully) about a concept called "visual management." It's a simple concept, but one that's often misunderstood. I'll try to clarify some of those misperceptions in this post.
Visual management is really about making problems or abnormalities in a process immediately visible. If something is not normal or going the way it's supposed to, we want to make that as apparent as possible.
Hear Mark Graban read this post (as part of our KaiNexus Podcast series):
In the upcoming 3rd edition of my book Lean Hospitals, I quote Toyota leaders, both historical and contemporary, on this topic:
"As Fujio Cho, honorary chairman of Toyota says, "One of the worst situations… is not being able to tell whether things are standard or out of standard (normal or abnormal)."[i] Our aim should be to expose problems so they can be fixed, as opposed to the old approach of hiding problems to make things look good. Toyota's Bonini says, "The ideal is to be notified of any abnormality immediately and to solve problems as they occur, while the situation is still fresh."[ii]"
Problems might be made visible through an automated or manual mechanism. In a modern car factory, there are lines painted on the assembly line that allow workers and supervisors to gauge the progress of work. If the work in a station has taken longer than normal, the car and workers will cross that line – there's a problem, an abnormality, and that's readily apparent. A worker might also pull the "andon cord" which triggers lights and other displays that help a supervisor or team leader see that there is a problem and where that problem is. And, there are musical chimes that sound (so we could maybe call that audible management).
It's a fundamental principle in Lean that we don't hide or cover up problems. We want to make problems visible, as that's the first step in improvement. If we hide problems, we can't prevent future problems very well. This leads to a second core Lean principle – when we see a problem, we look to solve the problem and improve the process instead of punishing or blaming individuals.
If we don't have the right kind of management, people won't help make problems visible. It's not "visual management" without the visual or the right kind of management.
Many people misunderstand visual management and they think it's all about making charts and metrics visible on a wall (or in a computer system). That's just one form of visual management. The most effective visual management, however, is real-time… when a problem occurs, it's immediately visible and we can immediately respond in some way. The closer performance measures are to real time the better. Monthly performance measures that show averages across time make it hard to react, hard to understand the causes of the problems, and hard to improve. Weekly, daily, or hourly performance measures are more granular… still visual, but allowing for better management.
If you just have charts and metrics on the wall, you're not really doing visual management in a fully Lean way.
We have to design our systems and processes to allow for visual management. We have to be able to see the difference between normal and abnormal. If a hospital laboratory has big stacks of bags containing laboratory specimens, how can we tell if that's expected or unusual? If a hospital emergency department has 25 people in the waiting room at a certain hour of the day, is that normal or unusual? Our visuals have to have context.
I've seen laboratories change their process so piles of bags become neatly organized racks full of tubes. When those racks are lined up on a counter, we can use taped lines (or other signals) to indicate green, yellow, and red areas. When racks extend only through the green zone, the team and leaders can see that this is normal and expected. If there are more racks that extend into the yellow area, we can see that there are more specimens waiting than usual and we can predict that turnaround times might be longer than normal. If the racks extend into the red area, we might have a problem that's serious enough that requires an immediate response.
In the short term, we might reassign staff from another part of the lab to increase capacity and to get that backlog down. That reaction is a form of "management." We've made the problem (long turnaround times) visible and we're also managing it. I've seen teams have standard "playbooks" for how they respond to different situations like this.
Good Lean thinkers will realize we need more than short-term reactions. If we are getting into the red zone quite often, we might realize that there's an ongoing capacity issue. This might trigger continuous improvement activities or something bigger, like a Rapid Improvement Event, or RIE. We shouldn't just fight the same fires each day, through short-term reactions. We also have to improve the system, creating long-term countermeasures and improvement.
What has your organization done to embrace visual management? Do you struggle more with making problems visual? Or do you struggle more with the right approach to managing these problems and abnormalities?
[i] Harada, Takehiko, Management Lessons from Taiichi Ohno: What Every Leader Can Learn from the Man who Invented the Toyota Production System(New York: McGraw-Hill, 2015), 45.
[ii] Bonini, Jamie, presentation at 2014 Lean Healthcare Transformation Summit.