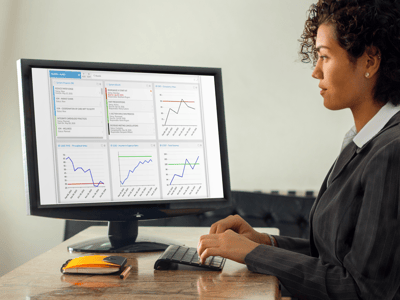 Huddle boards are a useful visual management technique that are frequently used in conjunction with a daily huddle or stand up meetings. Everyone gathers around the board to chat about the top priorities for the day. Daily incremental improvement plans are discussed and evaluated.
The idea has a ton of merit, but there are some severe limitations of a physical board hanging on the wall. That's why there is a move away from physical boards to software-based management. Cloud-based technology makes it easy and cost-effective for organizations of all types to enjoy the advantages of digitizing their huddle boards. Here are a few big ones.

1 – Digital huddle boards are perfect for remote and traveling workers
Keeping remote workers engaged in improvement has suddenly become a top priority as millions of Americans are under Stay at Home orders. Physical huddle boards are useless if everyone is working from home. Digital huddle boards, on the other hand, are useful regardless of who is working from where. You can have your daily huddle meeting via video chat or conference call, and everyone can have access to the same information. Collaboration is no longer tied to proximity.


2 – Leaders can interact with multiple boards
For people who manage more than one team, digital huddle boards are a gift. Because the boards are online, leaders can check on the engagement and activity of every team without going from place to place. Role-based access means that everyone has the information they need all in one unified platform.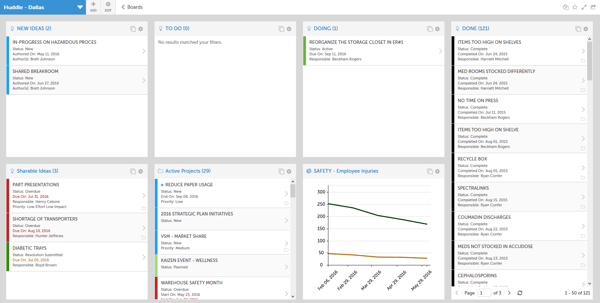 3 – The history of improvement work is captured
With a physical board hanging on the wall, you get a snapshot of what is happening right now. That's great, but the history of past improvement work is not available. When you move your board into the cloud, you begin to create a repository of knowledge. All of the documents, conversations, and other information about each project is collected and available for future review. In this way, your team gets smarter with each improvement.


4 – Cross-functional collaboration is easier
Huddle boards are usually used and managed by functional areas, but often improvement work requires the efforts of people from more than one department. Digital huddle boards make working across functional boundaries much more efficient. They also help the improvement mindset and culture spread by making information about successful projects available to everyone in the organization.


5 – Goals and strategy are aligned
Improvement work should not happen in a vacuum. It should be tied to the overall strategic goals and objectives of the organization. It is often said that everyone should be working toward "True North." Digital huddle boards can be used to achieve this tight alignment by cascading goals down from the corporate level to each person. The objectives become part of daily huddle meetings, so they are always top of mind.


6 – Notifications and alerts accelerate improvement
Physical huddle boards have many of the same disadvantages as spreadsheets when it comes to improvement work. They are passive holders of information, but neither does anything to actively spur engagement. Digital huddle boards are different. The best ones include workflow features that alert people with email notifications when action is required. Managers know when deadlines are missed, or new opportunities for improvement have been submitted. Your team has a lot going on, so these little reminders can make all of the difference.


7 – Success is broadcast
Organizations that get the most from a culture of improvement share success far and wide. One of the best ways to get more engagement from team members is to recognize and appricate those that contribute to positive change. Digital huddle board solutions have improvement broadcasting capabilities that make recognition easy and a natural part of each improvement cycle.


8 – Impact is calculated
Many improvements create an immediate short-term impact that is apparent to everyone involved. However, some generate gains over the long term that are less obvious. Physical huddle boards aren't designed to capture the effects of improvement, but software can do exactly that. The ability to calculate the impact of improvement is crucial when it comes to securing the resources to do even more of it.


Of course, not all digital huddle boards are the same. When looking for a solution, be sure that it can deliver on all of these benefits. If you do, you'll see better results and more engagement in no time.