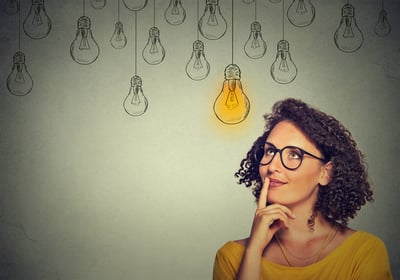 The selection process for any type of software can be challenging to navigate. You've got to find out what's available, narrow down your choices, and dig in on the vendor and product. If you're looking for an improvement platform, the task can be especially daunting because so much is riding on it. You certainly don't want to start your organization's journey toward continuous improvement with a technology failure.
This post will help. First, we'll outline the vendor qualifications, and then we'll dig into the key features you'll want to consider.
Vendor Considerations
People usually jump right to features when evaluating software, but in the world of improvement technology, the vendor's qualifications are just as relevant. You want a partner that can work with you to make your program a success. We recommend answering the following questions.


Was the platform developed as an improvement management system, or was it built for another purpose?
Because improvement management technology is gaining popularity, some vendors market generic product management tools not designed for improvement work as improvement technology. Approach these kinds of solutions with caution. Why settle for one that wasn't designed for this specific purpose.


Will my team get help with the implementation and ongoing support?
Limit your search to vendors that can provide you with a dedicated account manager to ensure your success. You should have support during the initial roll-out and ongoing email and telephone assistance.
Does the vendor have customers like me? Have they achieved results?
It pays to ask questions about what the vendor's other clients have achieved using the proposed platform. Many improvement projects get started, but never reach the finish line. You want to partner with a vendor whose clients have seen an ROI.


Can the vendor provide continuous improvement knowledge?
Technology is only a piece of the puzzle. Creating a culture of improvement is the best way to achieve sustained improvement over the long horizon. Look for a partner that can be a resource for your team with educational materials like eBooks, webinars, events, and videos.
Essential Features
The following are features that our clients have told us are essential to their success.


Impact, Activity & Engagement Reports
Improvement software should give instant insight into the people, teams, and departments engaged in the work, and it should calculate the impact of those improvements.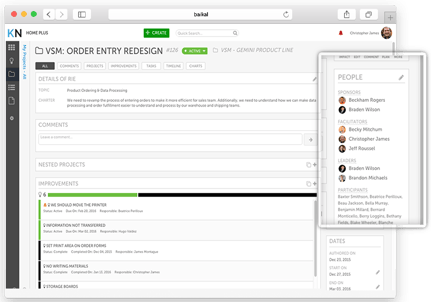 Visual Management
People understand visual information more effectively than text. Visualizing improvement projects and results ensures that people stay informed and engaged. Whenever someone needs information about the state of a project or process, it's a picture instead of 1,000 words.


Mobile Applications and Device Independence
Improvement work doesn't stop at the desktop, and your improvement software shouldn't either. Consider solutions that offer Android and iOS apps and will work great on tablets or phones.


Strategy deployment
Improvement efforts should be tied to the strategic goals and objectives of the organization. The best improvement platforms allow the strategy to cascade down the organization so everyone knows how their work relates to the larger goals.


Cross-Functional Collaboration
Process breakdowns often happen when work is transitioned from one functional area to another. Choose improvement management software that supports collaboration across teams and unifies the organization on one common platform.


Top-Down and Bottom-Up Improvement
Some great ideas come from front line employees, while others start with the C-suite. Choose software that provides structure to improvement no matter who gets the ball rolling.
Support for Multiple User Types
The needs of each employee will be different based on their role. Executive leaders and individual contributors have different information needs and permissions. You want software that tailors the experience to the needs of each user.


Data Encryption/SSL
Data security is vital for improvement software because it will almost certainly contain sensitive data that you want to protect. Insist on a solution that uses secure web pages with data encryption.


Smart Notifications
Notifications and alerts via email help keep people engaged and on track with their improvement projects. They also let managers know when tasks are completed or deadlines are nearing—this ensures that action is taken to sustain improvement momentum.


Opportunity Submission Via Email
The more ways employees can submit opportunities for improvement, the better. For many, email is the preferred platform, so choose a solution that accommodates that functionality.


Configurable Boards and Projects
Different organizations approach improvement work in different ways, and the path to improvement can vary from project to project. Look for a solution that is flexible enough to fit your workflow and visualization needs.


Class and Certification Tracking
Many organizations that practice continuous improvement have a structured approach to employee training and development. If yours is one of them, make sure that your software allows you to track the classes and certifications of the team.
Advanced Search Capabilities
The ability to search the knowledge repository for past projects is critical to getting value from every project. It should be easy to find information based on category, target process, function, and impact.


Success Broadcasting
Improvement culture thrives off when people celebrate and announce success. Success broadcasting is a way to build-in recognition and appreciation.


This is a long list, but it is worth the research and time to find a solution that checks all of the boxes.