Hi, my name is Morgan Wright. I am the Customer Marketing Manager at KaiNexus, and began working here April 2021. I was born and raised in Austin, TX - and in my opinion, the best city on earth. Even though I grew up in Austin, I still find new things to do all the time. The best part is all the things to do outside - I love to go on hikes, spend the day at Barton Springs, paddleboard, or try new workout classes in my free time. Thank goodness the warm weather allows for (almost) year-round outdoor activities!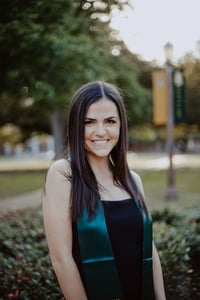 I graduated from Baylor University in 2019 and studied marketing. I always knew I wanted to pursue marketing because marketing is constantly evolving, and vital to almost every organization. I also always knew that I would be a Baylor Bear - my dad went to Baylor, and now my little brother attends Baylor. So we are truly a Baylor family (minus mom!)
After I graduated, I worked in sales for a year and a half here in Austin. I began to explore new career opportunities at the beginning of 2021, knowing I wanted a position that combined my passion for marketing, being a part of a team, and interacting with customers. When I found the Customer Marketing Manager position posted for KaiNexus, I was immediately intrigued. Not only did the job description sound like exactly the role I was looking for, but the last line of the job description really stood out to me:
'Confidence sometimes holds us back from applying for jobs we really want. But we'll let you in on a secret: there's no such thing as a 'perfect' applicant. KaiNexus is a place where everyone can grow. So however you identify and whatever background you bring with you, please apply if this is a role that would make you excited to come into work every day.'
I was blown away by this statement - I knew this was a team I wanted to be a part of. So I crossed my fingers, hoping I would get the opportunity to move forward in the interview process. To my delight -- I did! Throughout the interview process, I spoke with people in several different roles. I knew from my very first interview that this was going to be the place for me. After about 2 weeks of interviews, I was offered the job!
As I approach the one-month mark here at KaiNexus, I can't believe how much I've learned in such a short time. I've participated in team meetings, joined customer calls, and began work on projects. The best part is, they made me feel like a part of the team from day 1! I'm looking forward to continuing to learn more every day to be the best partner I can be to our customers and to the KaiNexus team.
You can also listen to a podcast with Morgan, talking about joining the team: