My colleague Jeff Roussel kicked off (or I should say teed up) this series by writing about opportunities for improvement (OIs) when out playing golf. I loved it (when I read the draft), and I'm not a golfer -- but I do like bad puns. But, more of us are still going to the grocery store, so we thought it was important to publish this post first. Stay tunes for the golfing one!
I do love to eat. I even love to cook. And, I'm doing more of that while sheltering in place at home. Lettuce, I mean let us, look at some OIs that stores are (or should be) adopting and things that we can do to protect ourselves and our fellow shoppers.That's the last pun that I can think of, probably. So, please don't be chicken about continuing to read.


Is this trip absolutely necessary?
Our CEO, Dr. Greg Jacobson, gives good advice when he says we should only go to the grocery store when it's absolutely necessary. His question the other day was:
"Have you completely run out of food in your house?"
He means if you have something to eat, that's fine. It's a good point. I'll admit to going to the store a few times, I've adjusted my own shopping by going to the store less frequently than I might normally. This limits the number of people I'm interacting with throughout the course of the week.
One OI that my wife and I have practiced is to look in the freezer to cook and eat things that are closest to their expiration date. This isn't a time to waste food (as if it ever is). If you're not sure about meats or other foods you might have frozen yourself, this government web page says that dates on frozen foods are more about quality than safety (as frozen foods can be kept "indefinitely" at or below 0 degrees F.
Time spent in the refrigerator is more of a potential safety concern as that last link says:
"The short time limits for home-refrigerated foods will help keep them from spoiling or becoming dangerous to eat."
So pay closer attention to foods in the fridge. Here is a helpful article about when you should throw things away. Don't confuse "sell by" dates with "best by" dates or "use by" dates. See this helpful guide about what those different phrases mean.
Does it have to be a traditional trip inside the store?
It might be safer to avoid going to the store altogether, if you can take advantage of home delivery services or curbside pickup, where a store employee puts your groceries in your trunk. That further reduces or eliminates the exposure you have to other people. Why improve a process that we can eliminate altogether?
That said, if you're going to the store, let's look at how to improve that process.
Make a list - but prepare to be flexible
There's a balance to be found between burning down inventory and feeling confident that you're not going to run out of food. Again, one OI that we've practiced a bit is "eat what we have" more so than thinking "what would we prefer to eat today?"
In normal times, we'd make a list of what we want and we'd build that list in a shared Apple Note. I took for granted that I'd be able to find what I wanted at the store 99% of the time. I don't remember ever seeing a store be all sold out of fresh ground beef, but I saw that last week. But, they weren't all out of beef.
One OI that many stores have implemented is purchasing limits for certain items. I wonder if it would have helped to have implemented that earlier?
I decided to make a beef stew since they had stew meat. But, there was only one package of pre-cut stew meat (which I might have normally bought for convenience). That package was a little small, so I bought a 2 lb piece of beef and I cubed it at home.
You might find that your store is out of particular items, but there's no reason to hoard food or overbuy in general, according to the grocery retailers. Food is being redirected from restaurant supply chains and if you can't find fresh chicken breasts, for example, you can find a substitute.
OI: I'm going to start writing out a shopping list on paper. I can use that paper to open the freezer case or to grab items perhaps. A paper list means I can leave my phone in my pocket while I shop -- keeping the phone in my pocket until I can wash my hands. Read more about phone cleanliness. Maybe phones will be another topic in our series.
Another benefit of having a list and a plan for the trip is that you'll spend less time in the store.


Look, but don't touch
One of my KaiNexus colleagues pointed out that this is not a time for lots of random browsing if that involves touching or picking up items.
OI: Only touch products that you are going to buy. This reduces the risk of getting the virus on your hands and it reduces the risk of spreading it to others.
Another KaiNexian noticed that one of the local Austin grocery stores had removed all of the "impulse buy" items near the checkout lines that probably get browsed and touched a lot -- including magazines. The last time I visited a grocery store in Orlando, they hadn't implemented that. I wish they would. The stores might need to pare down their offerings to be focused just on food, medications, and other essentials.
Other stores are closing areas like the deli and bakery where open loose items might be touched by others. OI: only buy items that have been pre-packaged and haven't been sitting out.


Keep your distance -- safety first
In an era of physical distancing, it's important to keep six feet away from others. To reduce crowding, some stores are limiting the number of people who are allowed to be in a store at any given time. But, if a queue forms outside of the store, it's important to space yourselves six feet apart.
Here's an example where most people were doing a pretty good job of distancing right before the store opened: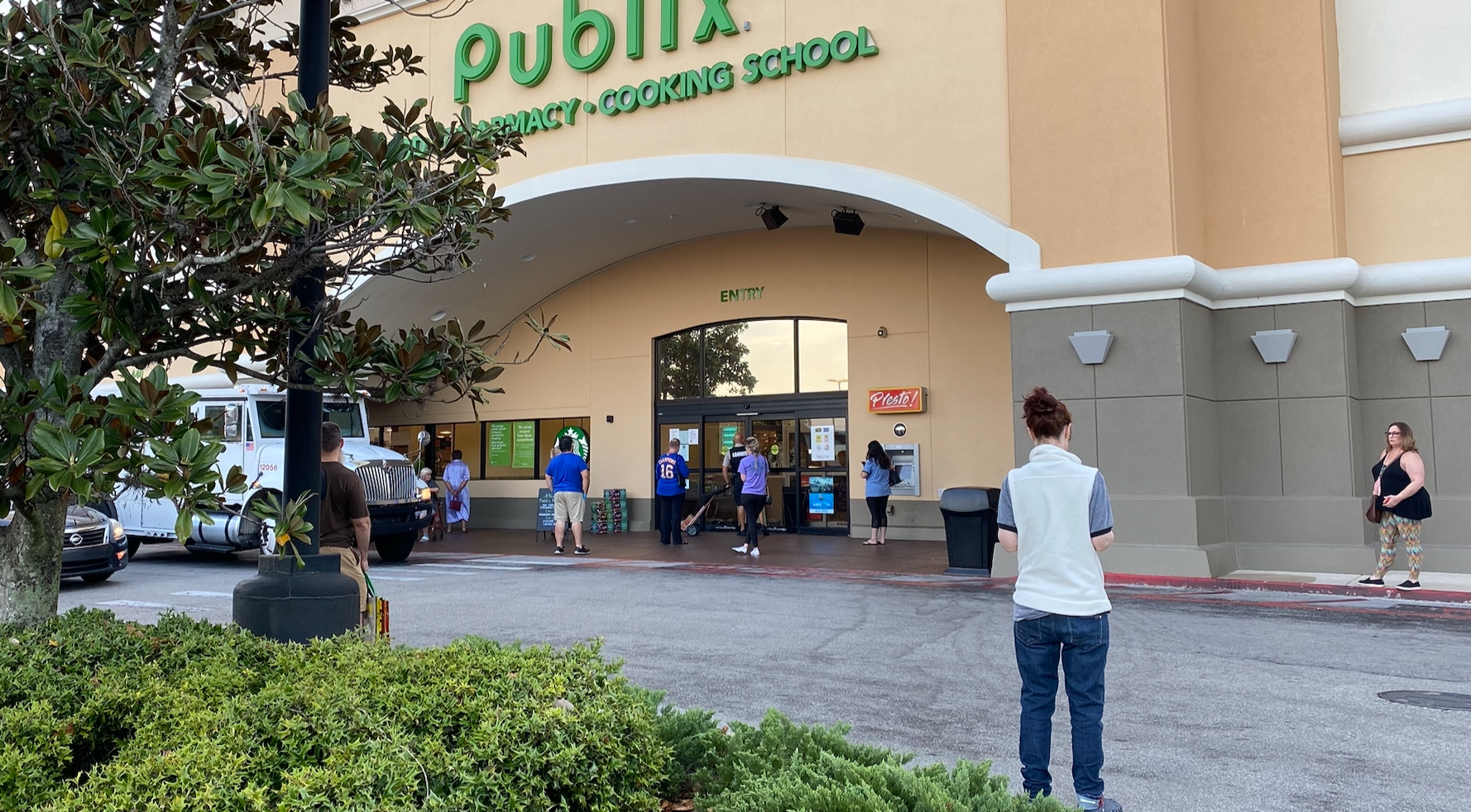 Unfortunately, when the doors opened, people seemed to forget about distancing as the crowded the entrance to get carts. Or they were in a rush. The store still didn't have Clorox wipes, hand sanitizer, and a few other things I had hoped to find by going early.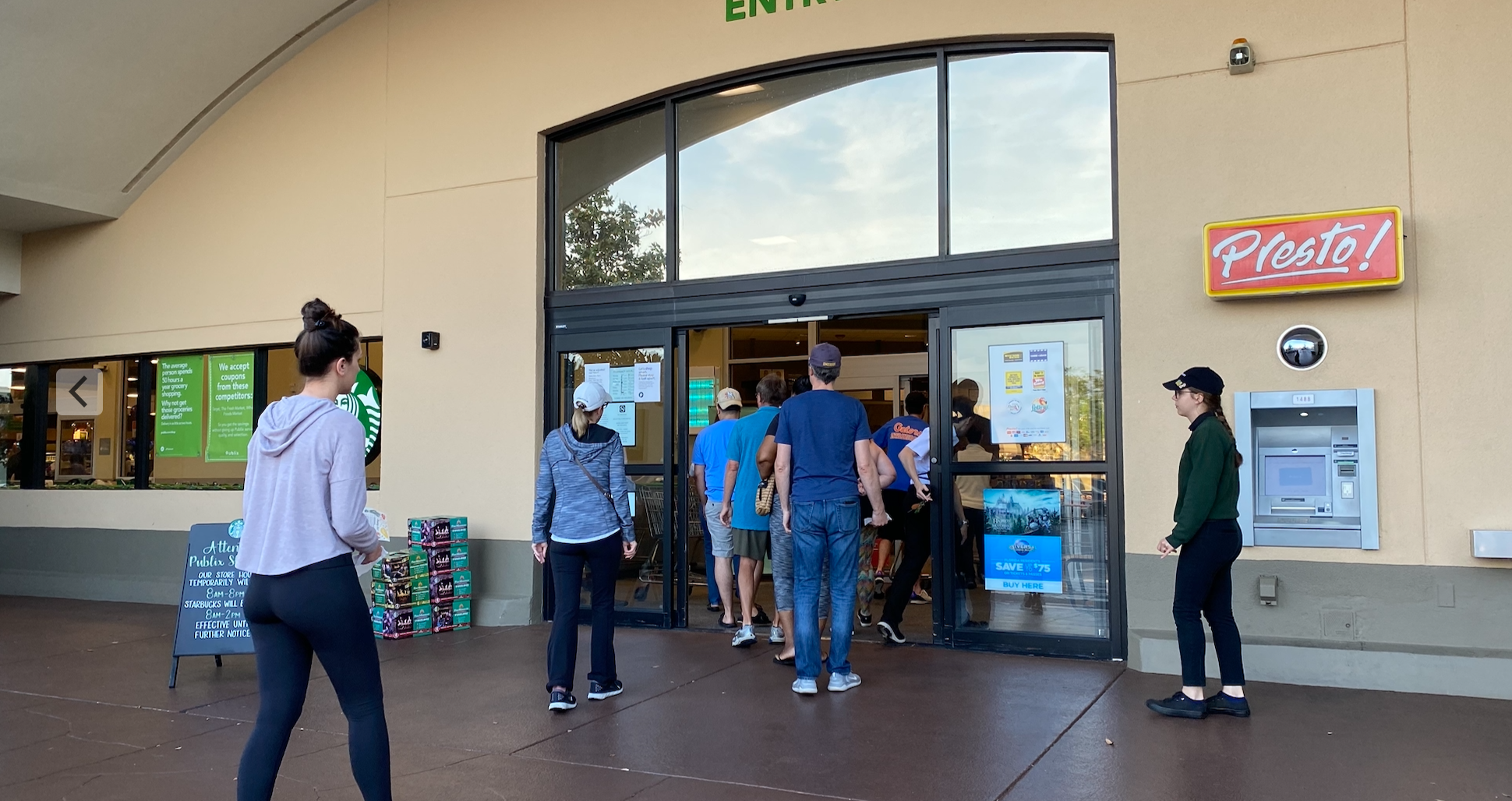 The same need for distancing would be true in any line that forms for the register. I have to admit to getting crabby when the customer behind me the other day wasn't maintaining proper distance. Don't crowd others in line or in the aisles as you shop. It's better to take your time and keep your distance.
OI: Stores could use floor markings to help people remember this. Spaced-out lines will take up more space, so that's another OI for stores to figure out. Some might need to do a bit of physical reconfiguration of the front of the stores to accommodate this, especially if it's the new normal.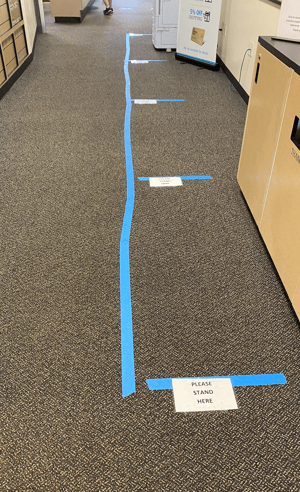 Here is a photo I took at a UPS Store the other day that illustrates this principle. They're putting function over looking pretty.
One other way of maintaining distance for seniors (or other at-risk customers) is having some early shopping hours that are only for them, as some stores are implementing. Oh, and another OI is that stores are shortening their hours to allow for better cleaning overnight and to give more time to restock shelves.
OI: Maybe the stores should designate aisles to be "one way" with markings on the floor. It's easier to maintain six-foot distancing when we're all going in the same direction and not passing each other going opposite ways. The UPS Store was narrow, so it was, again, harder to maintain distancing side by side as somebody was leaving the store.
Even with distancing, our CEO Dr. Greg Jacobson recommends wearing some sort of mask, even if it's homemade. A fabric mask (you can find instructions and information about effectiveness online) or a bandana probably provides some protection -- it can't hurt. N95 masks should be reserved for medical professionals -- if you have a supply of those or regular surgical masks, you could donate them to a local hospital.
Update: The CDC now recommends that we all wear cloth masks when going to the store.
At the register
Since it's hard to keep your distance at the register, do your best to not stand right on top of the employee working the register as they're ringing up items. Move down a bit, but then don't stand right on top of a bagger if somebody is doing that. Some stores are rushing to install plexiglass barriers to protect the check out employees (and I guess that also protects the customers from them). I hope we see that sooner than later and that's probably the new normal.
Speaking of the check out lines, I've read that some stores (or states) are banning reusable shopping bags since they might be harboring the coronavirus.
Other hygiene OIs would include having hand sanitizer available at each register (which is easier said than done while there are shortages). Ideally, the cashier would be using sanitizer after each and every customer. Some stores have employees wearing masks and gloves. That might be controversial to some, as masks might be better utilized by healthcare professionals. Gloves would also have to be changed often, since they're not a magical virus killer. If you're wearing gloves and you touch something... and then touch your face, you might have just gotten yourself infected.
Oh, and when it's time to pay, this is a great time for contactless payment systems. At the one grocery store that I use, I no longer feel the need to enter my phone number on the payment keypad to get a discount. You could ask the cashier to enter it into their register for you. I wish more stores accepted Apple Pay like one national chain does. I'd rather just use my phone... but then that creates the need to wipe down and clean your phone after you've been touching items in the store.
OI: Don't use cash!
OI: This is a time for stores to stop the practice of taking your cart out to your car, unless you really need the help physically. You could maintain a six-foot distance if need be and you can be the one to open and close your trunk.
Here's a great video from a Texas supermarket chain HEB that's doing great work. I wish my Florida Publix stores were learning from (if not copying) HEB.


By the way, here is a fantastic article about HEB and their preparations from Vice.com (and here's another from Texas Monthly).
Once you're home
First off, wash your hands well with soap and water for at least 20 seconds.
Dr. Jacobson recommends wiping down items once they're in your home. Use a disinfectant wipe or make your own with a cleaning spray and a paper towel, perhaps. Or use dish soap. If you've set bags on the counter, clean and disinfect the counter. Again, wash your hands!
Here's an article about cleaning and disinfecting your kitchen in this era.


So many OIs
I bet you can think of other OIs -- both for the stores and for us as consumers. Leave a comment if you have other examples to share.
As in many settings, some of these OIs are "temporary countermeasures" that will be in place for a while. Some might become "permanent countermeasures" as we face a new normal. That "kaizen" improvement becomes the new "standardized work" if we want to use the Lean language.
Look for more posts in the series -- about golf, take out food, apartment buildings, and more.