During this era of Covid-19, I've had to make some adjustments to my exercise habits. I've made some improvements and some of these might still be "Opportunities for Improvements" (or what we call OIs at KaiNexus). We believe in the power of sharing continuous improvement ideas and that's something our customers do all the time.
So, the latest in our series on OIs in everyday life is about walking.
One improvement that comes from not being able to travel for work is that I really have no excuse for not exercising. I can't blame being tired at the end of a long, busy day, and I can't point to the lame hotel gym as an excuse.
But, in this daily exercise habit, I've had to stop using our condo building's shared gym. I would normally use an elliptical machine and free weights, but that's not a good idea right now. Working out alone in there might be OK, but I don't want to wipe down every surface that I'd be touching... better safe than sorry.
I do also enjoy getting fresh air by going out for brisk walks. I'm not just strolling, I'm walking quickly to get my heart rate up (which I can track through my Fitbit).
One failed OI was an attempt to start running a bit. One day, I listened to an audio exercise program that guided me to alternate between walking and jogging. But, my shins felt awful for over a week. I think I had proper shoes. The OI that I failed to embrace was proper stretching (alas, that's necessary for my 46 year old body, and it's probably a good idea at any age). I could try this again with that lesson learned. Or, I can just walk briskly enough to get my heart rate up into a good range.
So, I'm walking. In Orlando, I got into a habit of taking a short walk to Lake Eola Park and then I'd take a lap around the lake. This would normally be about a 30 or 35-minute walk. It's gorgeous, as you can see from this picture I took:



You can see the appeal of taking this walk, over and over and over. I also enjoy watching the geese and swans in the park.
But, during an era of social distancing, I've started to wonder if the park was too popular. I'm walking alone, but sometimes the path and park are busy enough that it's hard to stay 6 feet away from everybody. With gyms shut down, it seems like more people are out walking than usual.
It might be an abundance of caution, but one OI that I implemented was to start walking different routes. I've found that walking different streets in nearby neighborhoods might not have the water and natural beauty, but there are plenty of interesting houses and architecture to look at, especially the mid-century modern homes and bungalow style homes.
When walking these neighborhoods, there are fewer people. If there's another walker coming in my direction on the sidewalk, I can duck over into the street, walking facing into traffic (and there's not much car traffic on these quiet residential streets). I'm trying to maintain by 6 foot distance... and I notice others are generally trying to do the same.
In my attempts to maintain social distancing (while exploring new areas), I've found two other nearby urban lakes with nice paths around them. The one, in particular, is much less crowded: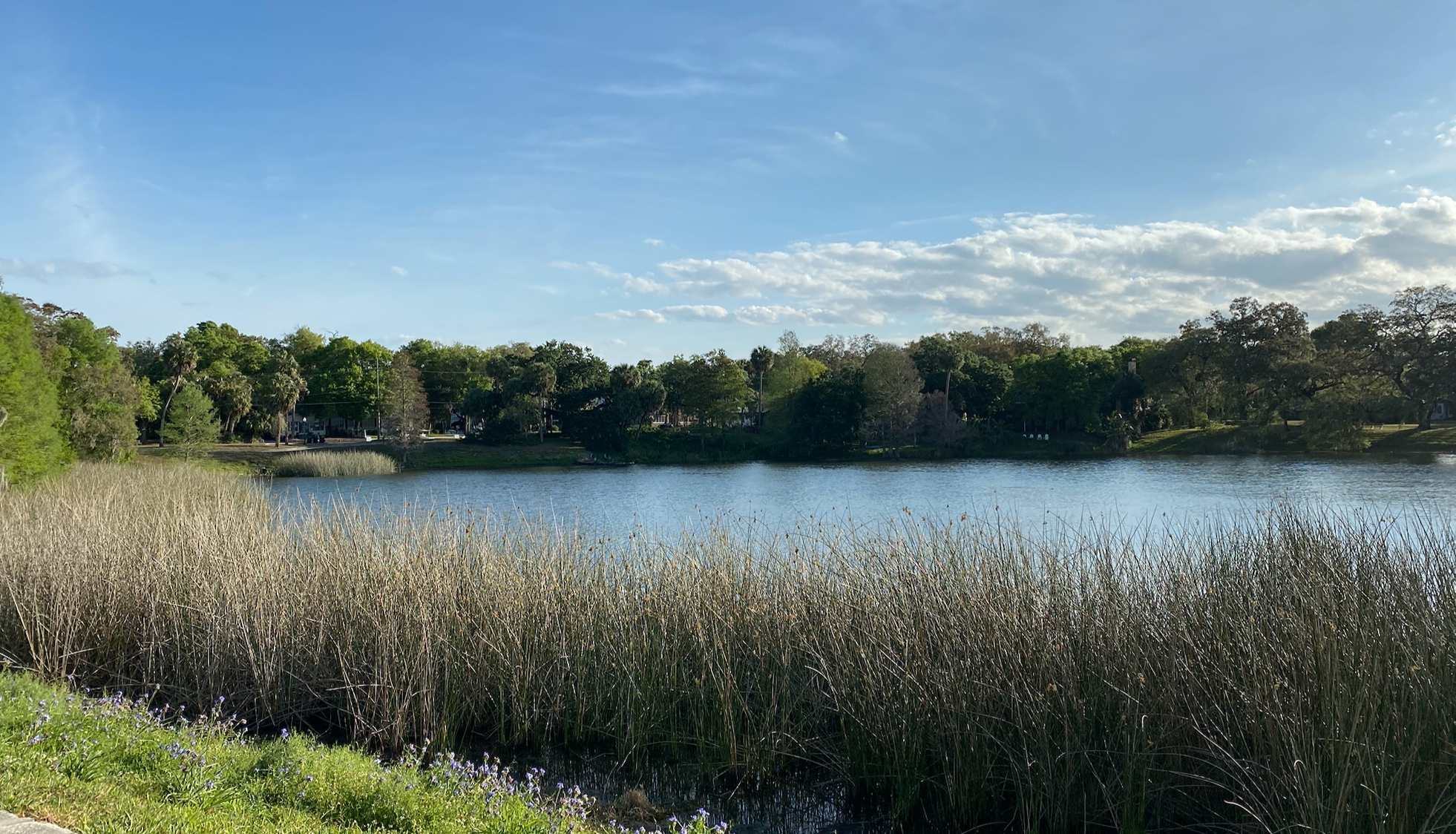 When I walk, I often listen to the news (I love the NPR One app) or podcasts.
A few times, I've used the walking time to catch up with old friends via phone calls. My heart rate is up, but I'm not out of breath thankfully.
Another OI is to start listening to music when I walk. I can find energetic exercise playlists through music streaming services, or I have an app called Aaptiv that I use for elliptical exercise audio routines. I find I exercise better when not distracted by looking at my phone and I exercise harder when there's music and a virtual coach.
Another OI for keeping the phone away is that I've started using a "runners belt" that's basically a thin "fanny pack" (or what do you call it on the front?). This keeps my phone and my keys from bouncing around in my pockets. I can still access the phone's volume buttons and I try to avoid the temptation to stop and look at email or social media. One OI for that might be turning off cellular data while I'm out for a walk. I could still get a phone call if needed, but then I could only listen to podcasts or Aaptiv tracks that I've downloaded in advance. I might try that.
And that's what continuous improvement is all about. When we try something new, we're not always sure if the change is going to be an improvement. But, we can test the change and see. Plan, Do, Study, Adjust.
And, with that, it's time to go out for another walk before it gets too warm and sunny.