The Standard Group is a print management and marketing logistics company based in Reading, Pennsylvania. They specialize in everything from marketing management and direct mail to commercial printing, warehousing and fulfillment, and promotional products. The team at Standard Group has been using KaiNexus to spread their improvement culture since 2017, when Nick Shonsky, their Director of Continuous Improvement, learned about our software from a friend using KaiNexus at another company.
When Shonsky first learned about the eight wastes of Lean, there were two wastes that stood out to him - Defect, and Overproduction. Both of these are inherent in the printing industry, making them a perfect target for waste reduction improvements.
Our team was fortunate enough to be able to visit The Standard Group. The moment I walked onto their print shop floor, I immediately saw how the organization embodies continuous improvement. Hanging from the ceiling throughout the floor are two giant banners - one listing the eight wastes and the other depicting The Standard Group's Continuous Improvement Pyramid of Success: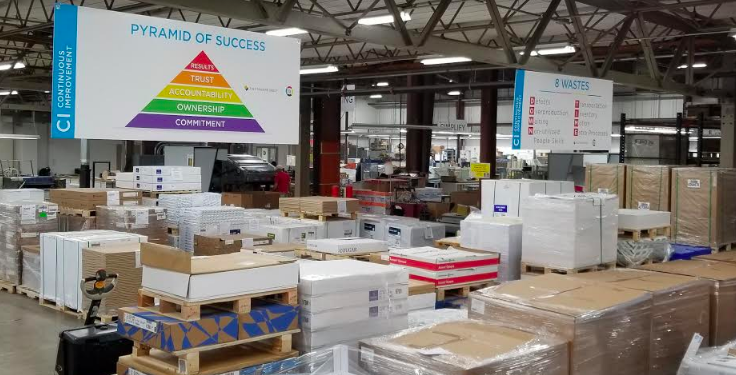 Pictured above, you can see that the base of their pyramid is Commitment, which Shonsky says is key to their success in continuous improvement. The senior leadership team has a deep and demonstrated commitment to CI, inspiring the rest of the company to get on board and contribute to making the company better.
The culture of continuous improvement is successfully spreading and sustaining at Standard Group because of the commitment from the top. How does leadership at Standard Group signal their commitment? Here are some that we learned about during this site visit:
Huddle Boards

Huddle boards spread throughout TSG make it easy for people to stay up-to-date on what their KPIs are, how their area is performing compared to those goals, and updates from Gemba Walks (among other things). These daily huddles (known at TSG as Plan 5s) give managers a place to discuss improvements with their teams and make sure everyone is in the loop.

CEO Scott Vaughn joined us on our tour and told us, "We have almost 200 employees. Do they all know what the targets are? If they don't know the battleground, they can't help." These daily huddles are the perfect place to make sure that people know the target, so every decision they make can work toward those goals.




Company Newsletters

TSG sends out an internal monthly newsletter, allowing each department the opportunity to share updates with everyone else. In true TSG fashion, Continuous Improvement has its own section. Shonsky used this as the place to talk about Good Catches, discuss progress toward KPIs, share the made improvements that month, and educate the workforce on things like 5S and how to work with people that are different than you, which is vital in a thriving improvement culture.

For example, one newsletter had a section about the Secrets to 5S success. Shonsky used this as an opportunity to share why Sustain, the fifth S, is so important:



Improvements will last and deliver gains such as cost reductions and quicker production times = a competitive advantage over other printers


Equipment will remain running efficiently a far greater percentage of the time


It helps create a culture focused on Continuous Improvement


Increased morale – we all want to work in a clean and organized environment


Safety improvements remain intact and are ongoing


We feel empowered when we realize that we have some control over our work environment


Reduced costs for tool replacement – when we are keeping track of our stuff it seems to go missing less frequently




Visual Cues

This is my favorite one. It seems like everywhere I looked at TSG, there were reminders that continuous improvement is essential and that it's everyone's responsibility.

For example, take these signs posted around the facility:



If this isn't a reminder to people to take responsibility for the quality of their work and speak up to improve it when they see an opportunity, I don't know what is.



Creating a CI Steering Committee

The CI Steering Committee is a cross-functional group of employees that works together on improvement. One example of an improvement they've come up with was to combine individual orders to one of their suppliers after they discovered that people were submitting smaller orders as-needed and paying shipping charges when they didn't meet the free shipping minimum. By combining all those small orders, they were able to save a ton of money on shipping.

Even cooler than this, though, is that those larger orders often qualify them to receive incentives from the supplier, which they then use as raffle prizes. They sell the raffle tickets to employees and donate the proceeds to a charity selected by employee vote annually.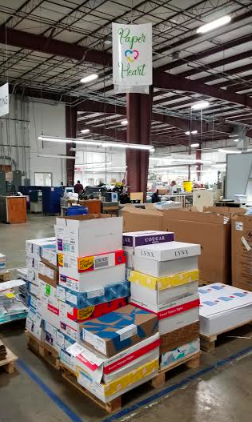 During the tour, what stood out to me the most was the way they use Continuous Improvement to benefit their employees. Of course they're making improvements for efficiency and waste reduction to meet their KPIs, but the outcome of a lot of these improvements directly benefited employees and their community.
For example, TSG instituted a program called Paper Heart, in which all of the excess paper products they had are put on a couple of pallets and available for employees to take home or donate to community organizations. This helps them manage their inventory better, keeping excess materials from collecting dust on the shelves - but it's also a way of giving back and reducing the amount of paper they throw away.
A less-exciting but equally important improvement took place in the pre-press department, where people were frustrated because the tools they needed were never where they belonged. People would take them, use them, and leave them somewhere else, making the work area disorganized and inefficient. To address this frustration, the team added labels for where tools belong, and even tape outlines for where equipment should be put back when you're finished with it. That's the kind of small changes that make a big difference in someone's productivity and job satisfaction.
I also found some improvements that we need to steal (erm… borrow…) - including a meeting space with no chairs and no laptops allowed. Meetings expand to fill the time you set aside for them, and there's nothing like knowing you're going to be standing - and paying attention - the entire time to incentivize scheduling shorter meetings.
I think the most impressive improvement I learned about during our visit was how TSG took their maintenance request process from two weeks to two days by converting a manual process into a digital one with KaiNexus. Originally, the maintenance request process required employees to write them on paper and give them to a manager. Now, people put their maintenance requests directly into KaiNexus, making it easy for maintenance workers to immediately see what needs to be done. This is a great example of an improvement that saves the organization time and money while also reducing the frustration of staff and improving their job satisfaction.
Whether they're reducing costs, giving back to the community, or reducing employee frustration, the team at The Standard Group is constantly striving to improve; it's ingrained in the culture of the company from the CEO to the machine operators. I could wax poetic about their work for another 2,000 words, but I'll save that for another day.