Know Your Score. Make it Better.
Spread Continuous Improvement.
It's hard to objectively evaluate your improvement culture to know where you stand with regard to your peers. That's why we've created an Improvement Culture Grader based on years of research and customer data. Answer six quick questions about your leadership, methodology, and supporting technology to see how your culture stacks up to the industry leaders.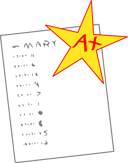 Once you answer those easy questions, you'll get a:
Letter grade
Quick summary of next steps
Description of an A+ organization
Link to register for a free, no-obligation Improvement Culture Consultation ($250 value)