I'm eagerly awaiting the start of a presentation by Cinnamon Dixon, the Director of Continuous Improvement at Cleveland Clinic, about their visual management process. I was talking with a Catalysis consultant this morning at breakfast who was telling me about the tiered huddle system at Cleveland Clinic, so I'm super excited to learn more about it.
Ok, here we go.
Dixon started out the session by asking us to pretend we're a president at a hospital preparing for our annual review. You look at your report of operational metrics. You see that over the last 30 days, your falls have increased significantly. Later, you see that the number of violent incident in the ED have also gone up. This leads you to wonder how your caregivers are doing. You see that your volume is down, too, and you realize that this is a good time to focus on employees to make sure you're running an efficient organization - but you see that that didn't happen. You notice all of this as you're walking into a meeting - but why didn't you know that sooner?
You lacked the visibility you needed to pay attention and make better decisions.
How does Cleveland Clinic manage to engage 66,000 caregivers every single day? How do they get that visibility?
Tiered Huddles.
Here's how the Cleveland Clinic tiers are set up, with vital information flowing up and down throughout the organization in a structured, consistent way.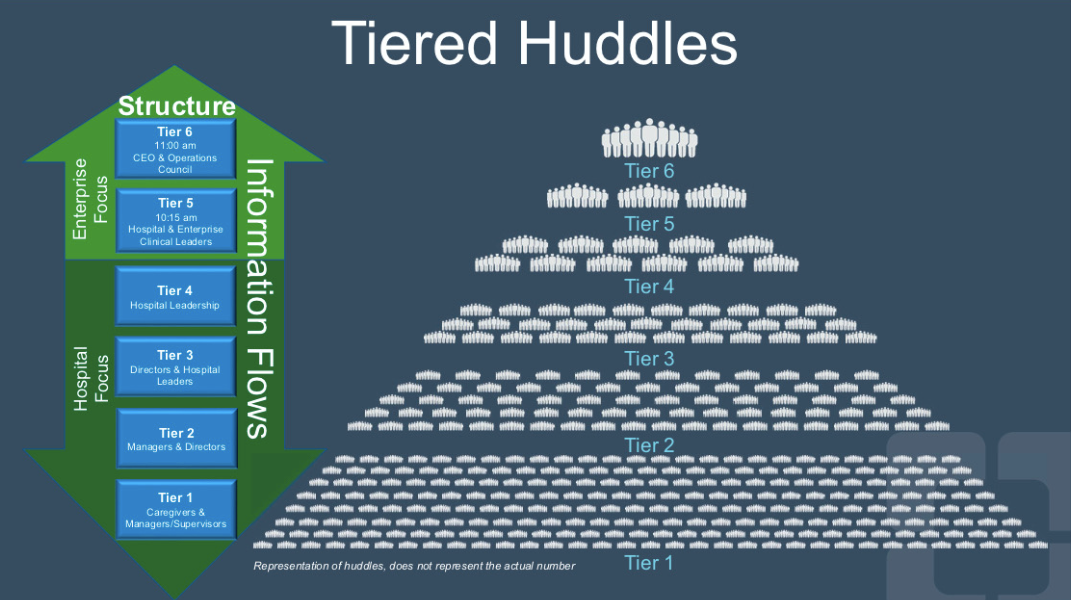 Source: Presentation from the 2019 Lean Healthcare Transformation Summit in Washington D.C. on June 13, 2019
Three Components that Make a Cleveland Clinic Huddle Run Well:
A Standard Agenda

Cleveland Clinic's huddles all follow a standard agenda throughout the entire organization, at every location, to keep meetings running quickly and smoothly. The topics on their agenda have evolved over time, and currently include:



Quality and Safety

(Metric-Based)

Patient & Caregiver Experience
Volume / Throughout / Capacity

(Metric-Based)

Staffing

(Metric-Based)

Other: Issues, Announcements
Action Items / Follow Ups



Standard tools



Action Register: Taking the time to listen and write down what's happening is key to actually MAKING change, not just reporting on problems. Cleveland Clinic uses a spreadsheet register to document details uncovered in their huddles, including:

What's the issue? Who reported it? Who's responsible for fixing it? What are the next steps? What was the resolution?





Standard behaviors



Start and End on Time (Less than 15 minutes at the lower levels, less than 30 minutes at the higher levels since there's more to cover)
All information is written down
Each person shares their metrics and issues; no leader is skipped.
We embrace and probe for issues and problems.


The result of configuring huddles this way is covered in this amazing video from Cleveland Clinic:


Source: YouTube
Tips on How to Get Started
Incredibly, Cleveland Clinic got this program rolled out in about 6 months. This honestly blows my mind, because this is a HUGE, complex organization with an overwhelming number of care providers and hospitals.
Start in a single area, in a single location first - and strategically spread from there. Cleveland Clinic began at in one area for the first rollout at the Tier 2 Level. From there, they added in the higher-level Tiers in a single location before going on to add in every hospital.


Have your CI team actually go to huddles - Their continuous improvement team attended the huddles, checked in, asked questions, and helped teams learn from each other about what to share, what to escalate, etc. Even if you don't have an actual CI coach, you can assign someone else.


Visit the lower levels: Have your leaders visit the tier huddle below the tier they coach. This enables them to learn what people are talking about, what's happening, and how they can coach better.


Use very consistent messaging to:



Continually reinforce the purpose of huddles to increase and maintain buy-in.
Emphasize that the huddles are not about reporting upward - it's about sharing and problem-solving right in your area so that you can provide better care for your patients.
Identify and illuminate problems so that you can resolve them and provide better care for our patients.
Convey that no problems identified IS a problem! If a leader came to the huddle and said there are no problems, improvements would never be made. Come to the huddle with identified problems and continue to encourage your team to do so too.