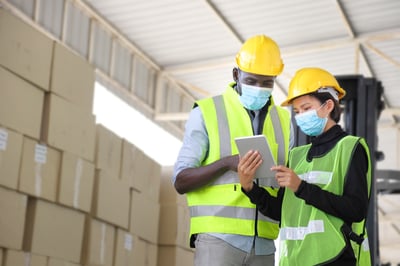 For many companies, the COVID-19 pandemic has shined a new light on environmental, health, and safety (EHS) programs. Workplace conditions that were once taken for granted are now being reconsidered through a new lens. Many organizations have realized that this is the right time to consider a more formal approach to managing compliance with regulatory guidelines and perhaps going above and beyond what is required. Over the last several months, we've spoken with many leaders and managers considering implementing software to boost their EHS efforts.
We've compiled a list of their most common questions.


What is EHS Software?
Environmental, health, and safety (EHS) software is a platform that organizations use to manage their regulatory compliance, corporate sustainability, and enterprise risk data and activities. Implementing EHS software is an effective way to reduce risk and prevent significant errors and omissions.
EHS software connects employees across organizations of any size—from frontline employees to C-level executives. Documents, activities, and reports are all stored in one centralized system that provides access based on their role.


What does EHS Software do?
EHS software stores all data, tasks, documents, and certifications in an online database. It provides configurable dashboards to give leaders a comprehensive view of the company's performance regarding EHS metrics in real-time. This data can easily be shared with whoever needs it.
In addition to serving as a repository of knowledge, the software can automate administrative tasks, such as alerts and notifications, and reporting. Leaders and managers can better understand performance and trends and take proactive steps like triggering corrective or preventative actions.
What are the Advantages of EHS Software?
Data Centralization
At most companies, important EHS information is stored across many different locations. It's often stored in spreadsheets, siloed databases, paper records, or even people's heads. This means it is difficult to locate information when it is needed for an audit or report. Time is wasted combing through data, correcting errors, and hand-entering records. When people leave the company, critical knowledge is lost.
EHS software solves these problems by creating one vision of the truth. Information is normalized and accessible.


Employee Engagement
The people who are most likely to spot environmental, health, and safety issues are the people directly affected. EHS software helps organizations lean into that by making it easy for everyone to report concerns and suggest improvement opportunities.


Active Management
Unlike spreadsheets, EHS software is not passive. When tasks are due, or a function is up for audit or review, it notifies the people who need to be involved. When managers have easy access to timely data, they can get ahead of issues and ensure that problems are addressed.


Streamlined Reporting
With a dedicated system in place, users can create sophisticated reports in just a few minutes, using real-time data.


Does my company need EHS Software?
Because today's technology for managing EHS is available online and is highly-scaleable, organizations of all sizes and types can benefit. If you're not sure it's time for you to invest in a solution, ask yourself:
Is it difficult for my team to get their hands of timely, accurate, and complete EHS data?
Are we missing deadlines or failing to complete tasks?
Do we have limited resources to devote to EHS related work?
Are improving performance and reducing risk top priorities for the organization?
Are we missing out on employee-generated opportunities for improvement?
If you answered yes to any of these questions, the time is right to consider your options and look further into how EHS software might benefit your organization.
What is the best way to compare solutions?
The first step is to make a list of the most critical software features for your organization. Most look for:
Mobile applications
Robust reporting
Ease of use
Customization that doesn't require vendor services
A searchable database
Visual management tools
Once a vendor has met the feature requirements, consider whether they have customers like you. Also, learn more about their approach to implementation, account management, and support. You want to choose a solution provider that can be a true partner and help you optimize your approach to EHS.


EHS compliance isn't just an obligation to your workers and customers. It's a commitment to treating them with care and respect. If you'd like to learn more about how software can help you reach your EHS related goals during COVID-19 and beyond, our team is standing by to help.