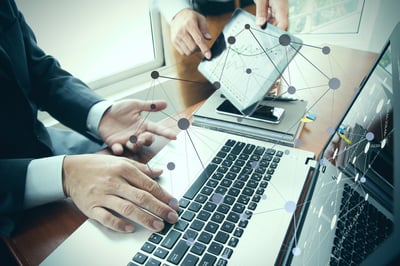 Finding the best software for any purpose isn't easy. You need to think about the technical environment, user experience, capabilities, implementation, and support provided. Choosing project management software comes with its own unique challenges. There are hundreds of applications available that help track tasks. Some are free and to use, while others are expensive and complex. Making an intelligent choice for your organization requires careful consideration of your needs and goals.

Our customers' primary interest is in providing a structure for continuous improvement across all of their teams and departments. The best project management software to support this objective is designed to collect, implement, share and measure improvement work. If that aligns with your goals, here are some helpful questions to ask during your project management software evaluation.


Was the platform created to manage continuous improvement or for some other purpose?
This question is the first step to narrowing down your search to software that is designed to support your primary goal. Many generic collaboration and task management solutions lack critical features that project managers dedicated to improvement require. For example, impact reporting, goal alignment, and visual management. Providers of catch-all project management solutions have competing priorities, trying to satisfy every task management need. On the other hand, vendors with purpose-built improvement project solutions can dedicate all of their efforts to streamlining positive change.
Is the software available on any device?
Organizations that achieve continuous improvement know that it is an always-on endeavor. Ingenious ideas for positive change can happen anywhere at any time, so you want your staff to be able to document and act upon them immediately. This ability requires choosing a cloud-based solution that will work on desktops and mobile devices. For work areas, like factory floors, where personal devices aren't accessible, kiosks are a great option for project management.


Does the solution have active alerts and notifications?
One of the most significant advantages of project management software is that it helps keep employees engaged in improvement activities. The best way to do this is to select a solution with automated workflow capabilities to keep everyone aware of tasks and initiatives. When a due is missed or progress stalls, managers are alerted so they can act to ensure the project gets back on track.


Does the software have advanced search capabilities?
One thing our customers who are adept at improvement know is that each project is a learning opportunity. They view their project management platform as a repository for knowledge for the organization. That's why the best project management software solutions make it easy for users to find past improvement work that they can learn from. Every time your organization makes a change, it learns lessons that can pay big dividends into the future. While "search" may seem like a simple feature, project management solution vendors often overlook it.


Can the platform support different types of users?
Executives leaders, project managers, team leaders, and front-line employees all have different needs for information and visualization. Therefore, it is wise to choose project management software that allows you to configure dashboards, reports, and data for each person, role, or location. The more closely you can align the solution to the user's needs, the more likely they are to use it regularly.


How does the solution measure the impact of improvement?
One big thing that sets improvement project software apart from generic tools is measuring the impact of improvement work. When leaders and employees can see quantifiable evidence that improvements are producing measurable, positive results, they are likely to make the financial and emotional investments necessary to maintain improvement efforts over the long run. Impact quantification is an essential feature of any project management software solution that you consider.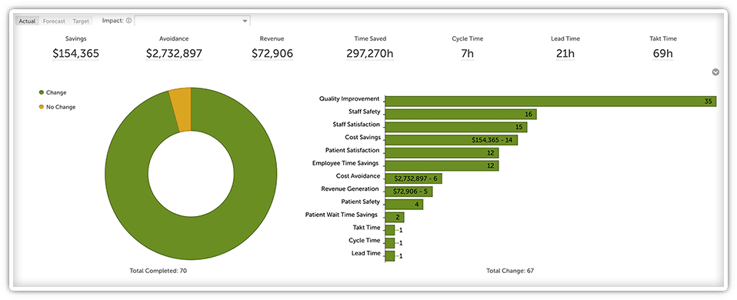 Can success be broadcast?
The key to spreading the continuous improvement mindset is ensuring that every success is broadcast far and wide. The best improvement software tools have successful broadcasting features, so this type of recognition becomes a standard part of the improvement process.


Can leaders quickly assess the status of improvement projects in the organization?
In addition to quantifying the results of improvement, your project management solution should make it easy to understand the amount of employee engagement throughout the organization. With the best software, leaders can see the number of projects in progress, the rate at which opportunities are collected, the individual employees and teams that are most active in improvement projects, and the organization's progress toward critical goals or milestones.


Which improvement techniques are supported?
Whether you are using a structured business methodology like Lean or Six Sigma or are just borrowing some of their best practices, it is vital that the software you select supports your favorite techniques. The best solutions for project management in an improvement culture support visual management tools, including control charts, fishbone diagrams, X-matrics, huddle boards, kanban, and A3.
Does the vendor have customers like me?
Project management software is used by all kinds of organizations, from healthcare to construction. It is a good idea to determine if each solution you consider has customers that are similar to your organization in terms of industry, size, and complexity. The best vendors will offer references from those customers or at least provide information about how other clients are benefiting from the solution.


How are implementation assistance and support provided?
It's not enough to just make project tracking software available to employees. An implementation plan is essential for long-term success and significant user adoption. Ask the potential provider how they will get you started. Will you have a dedicated account manager to walk you through the implementation? Do they have a structured onboarding methodology? How will technical support be provided? What type of knowledge base is available for self-service help?


When you find a project management software provider that has satisfactory answers to all of these questions, you'll be able to move forward with confidence and pave your path to success.