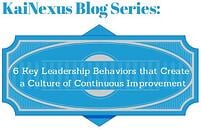 Read the previous post in this series
When everything is going well and your staff are happy, it's easy to bask in the sunlight and celebrate your success. You feel like a good leader - a strong leader - and your hard work has paid off to make you a successful leader. But what about when the going gets tough? When your projects are starting to fail, your staff are disgruntled, and it seems like nothing is going your way?
It's easy to be a good leader in fair weather. When the weather turns and heads are down, this is when strong leadership is necessary to pull the team through. This when great leaders shine.
A Great Leader
I am sure we can all think of leaders throughout history whose legendary leadership skills have pulled their teams through the toughest of times. My personal favorite is Winston Churchill. He was not the most loved politician of his time - some would go so far as to say that he was a heavy drinker and a braggart - but surely none would take issue with what he did for the British people during World War II.
Britain faced the might of the German war machine that was rolling across Europe, and were preparing for an invasion of the British Isles. The German Luftwaffe bombed British defenses and cities to prepare the way for the invasion. Every night, citizens took to air raid shelters and huddled around radios for news from their leaders. The British Air Force was terribly outnumbered, and it looked like it was only a matter of time before the invasion would begin.
It was at this time when all seemed lost, that Churchill pulled everyone together and united the nation. His rhetoric and defiant posture lifted spirits and created a steely national resolve. He asked everyone for extra effort - in particular, the young men with very limited training who took to the skies in the now world-renowned Spitfire fighter to defend their island. "Never before in the field of human conflict has so much been owed by so many to so few" was a line from one of his most famous speeches.
Continuously Improve to Prepare for Harder Times
When things are going well, good leaders hone their leadership skills through continuous improvement. That way, when the going gets tough and spirits are down, they will be prepared to rally the team using the carefully refined behaviors of good, strong leadership. Continuously improving these skills results in both the leader being a better leader and the team being a better team, preparing everyone to perform well under adversity.

When the leader has previously earned the respect of the team and proven that they'll listen, the team makes more of an effort when called upon for help. For Churchill, that effort came in the form of Spitfire fighter pilots. For you, it'll be ideas to fix the problems your team is facing. A spirit of togetherness will provide the fuel for innovation and improvement in both personal and team performance, guiding your team to clearer skies.
Don't sit idly by basking in the glow of success when all is well with your team; use this time to bolster your arsenal of leadership traits and continuously improve those skills so that you're ready to lead through the tougher times, too. After all; no one starts out as great a leader as Winston Churchill - skills like that have to be consciously developed.
Get involved in the conversation: leave a comment and tell us what leadership traits have helped pull your team through hard times.
This post is the fourth in a seven part blog series on best practices for continuous improvement. Be sure to sign up to receive posts via email so that you don't miss the rest of the series (or any of our other posts)!
What leadership traits should you be focusing on? Download our free eBook to find out!