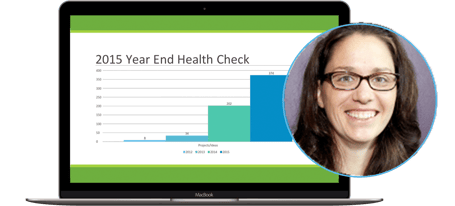 We love highlighting Lean success stories here at KaiNexus and so we were very excited when Erin Edwards, Continuous Improvement Manager at Four Seasons Produce agreed to host a webinar with us to highlight their success turning a Project Management Office (PMO) into an "Innovation Team." Edwards is a certified Project Management Professional (PMP) with experience in both project management and continuous improvement and had been working with Four Seasons Produce for about five years when the webinar took place.
The webinar, Turning Continuous Improvement and a PMO into an Innovation Team, was hosted by our Vice-President of Improvement & Innovation Services, and founder of LeanBlog.org, Mark Graban. You can watch the full recorded webinar here.
Four Seasons Produce is a full-service wholesale distributor and supplier of fresh organic, local, and conventional produce, which they supply to organic markets, food co-ops, independent retailers, chain stores, juice bars, and other produce buyers in the Mid-Atlantic and Northeast regions.


Listen to this Post or Subscribe to the Podcast:
Celebrating their 40th anniversary this year, Four Seasons Produce is growing; its 262,000 square foot warehouse in Ephrata Pennsylvania underwent a major expansion last year, which added space to both the warehouse and truck garages for their vehicle fleet.
Edwards listed some of the warehouse capacity and functions to illustrate the scope of its operation, which keeps an average of five days of inventory on hand.
As she explained, the warehouse has just over 8,100 palate spaces of refrigerated storage, 20 ripening rooms, and the capacity to unload railcars. Transactions are entered into a warehouse management and inventory system, quality control and quality assurance takes place for inventory monitoring and inbound inspection, and several value-add services are offered to customers, like special sorting, packaging, and labeling. Four Season employs about 700 people and that number is also growing. To help keep up, the company has been looking to Lean to reduce waste and improve processes. The journey of Four Seasons in implementing Lean thinking began when Edwards joined the organization in 2012.
Edwards said:
"I was not up-to-speed on continuous improvement, or Lean, or any of those concepts. So I was learning with the organization, and basically, we said, 'we're doing Lean, and here's the tools, go do it. Tools work, people use them, we don't really have a lot of overall vision or direction.'"


Improving Low Engagement Levels
This lack of vision within the organization meant that tools were being pushed to the floor, all work was focused on operations, senior managers were driving projects, there was limited engagement and education to supervisors and associates, and meetings were taking place outside of the work area. By the end of 2012, just eight projects had been completed and 18 associates were engaged.
Going into 2013, Edwards focused on expanding engagement. She did this by:
Engaging leaders and managers to deliver and discuss weekly Lean topics with staff

Delivering monthly updates on continuous improvement activities at team meetings for salaried staff

Sharing educational information, including interesting and helpful blog posts

Utilizing online learning resources

Creating a company library using presentations, tours, and information sharing with other local companies implementing Lean.

Edwards also created associate-led Continuous Improvement (CI) Teams. These CI Teams solicited associates for ideas and solutions, gave updates at daily shift meetings, and were responsible for implementing ideas with support and facilitation from Edwards.
Finally, the internal newsletter LEANing Forward was changed from technical educating to cheerleading in order to increase understanding and excitement. These activities to engage people in 2013 led to 18 completed projects and 98 engaged associates.
For Edwards, a turning point was reached in 2013 when sales, buying, packing, and quality staff finally converged in one room together for the first time. She said:

"This was the first time I think in the time I had been there that people looked at the process and not the other person. It removed the human element for them and participants found it eye-opening. They didn't realize how much their work was impacting someone else, and I think we started to see true teamwork and some give and take."

In 2014, the focus was shifted toward Lean training, gemba walks, leadership training, and technology.
"My Time was Cut in Half."
"The big thing for us in 2014 was bringing KaiNexus in," Edwards explained. "We were trying to use spreadsheets, we were trying to use email, trying all sorts of ways to track what we were doing. After bringing in KaiNexus, my time was cut in half so I was able to focus on people. KaiNexus was very easy to use for us and we were much more quickly able to show the impact numbers to our executive team in the organization."
In 2014, Four Seasons had 202 projects and ideas submitted and 170 people engaged, which represented quite an improvement from their results just two years earlier.
In 2015, Edwards, who was joined by a second employee to work in continuous improvement, focused on targets and goals.
"As we did that, we started to see they were beating those goals and [gaining a] sense of empowerment and pride [in] what they were doing. So we tried to give them more targets and goals based on projects so that they could run it and we could help facilitate," Edwards said.
Sustaining Improvement
With momentum building year after year, Edwards and her team looked at how to sustain it. The approach they decided on was combining the methods of continuous improvement, with the dedicated resources of the project management team, into an "Innovation Team." This Innovation Team, which includes members of all the required skill-sets, will use agile continuous improvement methodologies and leverage KaiNexus to manage solutions and capture results.
"We are in the very early stages of defining this Innovation Team and the thought is that we will continue to push forward with this. As we launch our first core system project we will launch our initial Innovation Team, and then subsequently we will continue to add additional core, dedicated, Innovation Teams to support a specific area," Edwards said. "That is our concept of bringing continuous improvement and project management together here, probably within the next six to nine months. We're continuing to refine it, but we think we have a big opportunity on our hands to leverage the best of both and really push our organization forward."