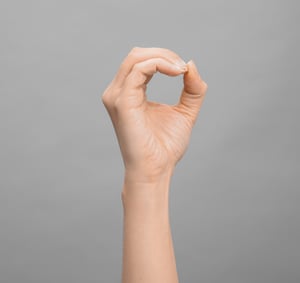 The Utah Department of Transportation has an audacious goal. Zero fatalities. According to its website, "Zero Fatalities is all about eliminating fatalities on our roadways. Some people may think zero is an impossible goal, but when it comes to your life or the lives of your friends and family, what other number would be acceptable?"
Has the department reached its goal? No. There have been 82 traffic fatalities in Utah this year as of writing this. Does that mean they should revise the target for the second half of the year? Maybe the goal should be to cut fatalities by 10%? Of course not, that would be absurd. Zero remains the only reasonable goal.
While your organization may not be involved in life or death matters, the quest for zero may still be relevant. Zero defects, zero safety incidents, zero rework, zero waste, zero customer complaints: these all may seem like impossible goals. But how many defects, accidents, do-overs, or angry customers are ok? Zero.
The State of Utah didn't just set a lofty goal. They have a three-step approach to getting there. While the framework is simple, it is a great way to think about improving any outcome. They call it "The Three E's of Emphasis."


Engineering for Zero
Utah state engineers apply innovative solutions to reduce the number of traffic incidents. They've borrowed proven, effective ideas from all over the world and implemented concepts such as continuous flow intersections and diverging diamond interchanges. The goal is to build safety right into the roads.
One specific example is the ThrU-Turn Intersection, sometimes called the Michigan U-turn. By eliminating left turns at the main intersection and re-routing them to a nearby U-turn location, the approach reduces delay and improves safety. By minimizing left turns, the frequency and severity of crashes are significantly reduced. As a bonus, the concept is more bike and pedestrian-friendly.
In terms of business processes, engineering for zero means examining each process to look for opportunities for error and eliminate the root causes. Process standardization is necessary to ensure that improvements are applied consistently and ensure that changes are moving you closer to your zero goal.
Education
From the UDOT website, "Some people might think that responsibility for road safety is entirely the job of engineers, designers and law enforcement. We are absolutely deeply indebted to the professionals who have worked to ensure safe travel on the roads. However, every person behind the wheel of a vehicle has a responsibility to themselves and to other motorists to drive responsibly."
The State of Utah has developed a comprehensive program to teach motorists how to make a difference on the road to zero fatalities. Organizations like businesses and schools can request a free Zero Fatalities presentation. The department recognizes that they can't achieve their goal without the public's support.
In the same way, achieving perfect process results is not something that can be done by managers and inspectors. The process operators are the ones in the best position to recognize and react to potential problems. Success requires providing them with the training and the tools to call out opportunities for improvement, to stop processes when the system is out of control, and to engage in preventative actions.


Enforcement
Of course, law enforcement is also an essential part of Utah's strategy. They've implemented special traffic safety enforcement programs, such as Click It or Ticket and Drive Sober or Get Pulled Over, to serve as a deterrent to dangerous behaviors.
The idea of enforcement might not seem to fit into business process management, and we're not suggesting that managers turn into traffic cops and penalize people who make errors. But enforcement (or maybe reinforcement) takes the form of accountability. Are performance measurements tied to process improvement? Are people recognized and rewarded when they contribute to positive change? Does everyone know that the goal is nothing short of zero and behave accordingly? Is hiring based on the candidate's capacity to adhere to strict standards and engage in improvement? In businesses, enforcement transforms into cultural norms that oblige excellence.
Zero Fatalities is an audacious goal, but nothing else really makes sense. Do you have any goals for zero? We'd love to help you get there.