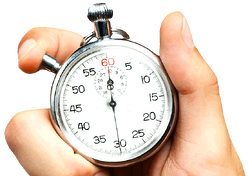 Rapid Continuous Improvement is based on a concept developed in Japan known as Kaizen. Kaizen simply means "good change." It is one of the founding principles in many modern business process methodologies, including Lean and Six Sigma. When an immediate breakthrough is needed to solve a specific problem, leaders can deploy rapid continuous improvement, otherwise known as a Kaizen Event or Kaizen Blitz. During a rapid continuous improvement effort, a small cross-functional team typically focuses 100% of their energy over a 3- to 7-day period to identify and execute improvements to a particular issue or process.
Common Rapid Continuous Improvement Targets
A Kaizen Event can address a wide variety of problems, but should be limited to those that can be resolved within a short time frame. Some common targets include:
Streamlining order to payment processes
Reducing new hire ramp up time
Improving first call resolution in technical support centers
Simplifying purchasing processes
Reducing patient registration errors
Participants
Participants include all the right people to assess the problem, develop improvement solutions and begin to implement them. This is often takes the shape of a cross-functional team with supervisors, subject matter experts and front-line employees included. In order for rapid continuous improvement to be successful, management needs to be fully behind the effort and committed to removing obstacles and providing resources when needed.
Rapid Continuous Improvement Activities
Of course, each event is different, but most begin with:
Problem definition
Documentation of the current state, potentially with value stream mapping
Development of a desired future state and standardized work
Training
Implementation
The activities that follow the implementation are equally important. They include:
A follow up plan with check points at desired intervals (30 days, 90 days, 1 year, etc.)
Formal documentation of lessons learned, best practices and new Standard Work
Broadcasting of improvement results
Keep in mind that these rapid improvement events are not about developing a plan for improvement. The improvements are implemented during the event. Results should be apparent immediately or within weeks, not months. It is also important to link the improvement event to the organization's overall goals and strategy, this will help ensure executive support as well as employee engagement.
Kaizen events are not appropriate for every problem, but they can be an important tool in an organization's continuous improvement toolbox.