We pride ourselves on providing an efficient and intuitive app, but we know that sometimes busy people don't have time to spare, even for efficient and intuitive work. And, boy, are our customers busy people (you've completed over 18,000 Improvements, after all)!
Give your productivity a boost with these 3 simple KaiNexus hacks and keep your to-do list under control.
1. Create a Card that shows all your Tasks
You probably know that Tasks are used to break an Improvement up into smaller units of work. This is great because it lets you break an Improvement into manageable chunks and assign those chunks to the people best suited to the job.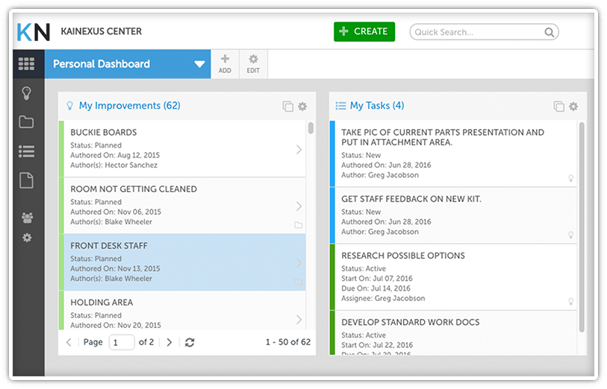 When you're assigned a Task, you're notified in the daily digest and it's flagged for your attention. But rather than scrolling through all your notifications to find your Tasks, I suggest setting a Card on your dashboard to display all Tasks with which you're affiliated. That way you can get a feel for what you need to work on as soon as you log in.
To add a Task Card, create a new Card and be sure to:
Set the User(s) field to "Current User"
Set the Status field to display only "New" and "Active" Tasks
2. Flag Improvements for future review
Say you've completed an Improvement, but you want to make sure that your staff keeps implementing a new procedure outlined in it. Or maybe you just want to make sure the Improvement is actually working as planned after a while.
It's a waste of your brain power to remember to check in on that Improvement, and jotting a reminder down on a sticky note is just asking for trouble. To save mental energy (and to keep from losing those pesky sticky notes), I recommend flagging those Improvements for future review.

Any time you complete an Improvement, you can set it to be reviewed on a certain date. You can also go back and add a review date for any Improvements that have already been completed by editing the Resolution.

When that date rolls around you will receive a notification in the daily digest and see a flag on the Improvement itself reminding you to review it. You'll never forget to review your Improvement work again!
3. Reply to a comment via email
When posting a comment in KaiNexus, users have the opportunity to immediately send a notification to certain people. Now, I don't know about you, but I find it really annoying when I have to log into a website just to respond to an email I got.
With KaiNexus, you don't have to; you can respond to the comment directly from your email. This gives the conversation the speed of an email communication with the added benefit of maintaining a permanent record of the discussion within KaiNexus.

To respond to comments via email, just hit the "reply" button as you would any other email. The body of your response will become the new comment.
I hope these "hacks" are helpful! Share your own by posting a comment below.