One thing that we look forward to the most every year is our Annual Nexie Award Ceremony. After two long years apart, we were so excited to be able to have our Nexie Award Ceremony in person at KaiNexicon this year. If you've been lucky enough to attend a KaiNexicon User Conference, you are probably aware of our esteemed Nexie awards. The Nexie Award Ceremony is our way of honoring our customers for their hard work and commitment to excellence throughout the year.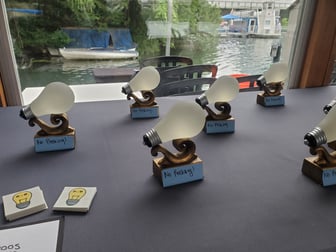 Now, drum roll, please….
Here are the 2022 Nexie Award categories and winners:
Mission Possible Award is Presented to Align Tech
Align Tech has been ready, willing, and able to engage their entire team in Continuous Improvement. Improvement takes patience and a can-do mindset. Even in good cultures, adoption of a new technology requires patience and change management. The winner of this award had a vision for rolling out their improvement program and has managed to do it successfully with groups all over the globe. There has been continuous iteration which has led to successful implementation and continued engagement. We are proud to present the Mission Possible Award to the entire Align Tech team!


Product Partnership Award is Presented to The Wonderful Company
The winner of this year's Product Partnership award goes to a company that is more than just a customer; they are a strategic partner and collaborator in Continuous Improvement that has influenced the style and look of KaiNexus.
This team works closely with our Product Team to provide invaluable feedback. Truthfully, 3.0 would most likely not exist without their eye for detail and insight. This company lives up to its name and has helped KaiNexus make our platform 'Wonderful.' Thank you, Wonderful Team!


The Ofie Award is Presented to Christian Care Ministries
The winner of this year's Ofie Award is a team that represents us well, like our mascot, Ofie. This team works hard and has fun while doing it. Through a collaborative partnership we have grown side-by-side and presented each other with plenty of opportunities for improvement. This team challenges us and makes us better, all the while bringing us joy. The winner of this year's Ofie Award is Christian Care Ministries.


The Best Optimization Partner Award is Presented to Memorial Health System
Continuous Improvement is not something you achieve, it's something you do. We are always looking for new and innovative ways to support the amazing CI work that our customers are doing every day, and one of our most recent innovations has been the Optimization Review. This customer was the ideal partner for this process. They committed the time and energy necessary to make improvements to their instance. This customer listened to our feedback and made the recommended changes to maximize the KaiNexus experience for their users. The Optimization Review process is a collaborative effort, and without their support and teamwork, this journey couldn't have reached a satisfactory conclusion.
We are proud to award the Nexie for Best Optimization Partner to Mike McGowan and the entire Memorial Health System team.


True Grit Award is Presented to Gilead
This award goes to a team who is fully engaged and is continually working to improve their systems. This year we completely reformatted their existing workflows and successfully implemented a more uniform workflow. Despite a champion change, this group has remained engaged and excited about Continuous Improvement work and has managed to revamp their system in a way that is truly valuable. Congratulations to Gilead for winning the True Grit Award!


The Team of the Year Award is Presented to UMass Memorial Health
Every member of this team is a rockstar. Through an engaging and collaborative approach, they are always on the same page and working toward the same goals. They each have a unique skill set, and when combined, are a force to be reckoned with. When this team wants to achieve something, they make it happen. From running idea workshops around their network and growing the user base, to creating and designing intuitive and powerful workflows, this team does it all. They are not only fun to work with, but add so much value into our organization. Thank you for all that you do. The team from UMass Memorial Health is our 2022 Team of the Year!


The Honorary KaiNexian Award is Presented to UC Davis
What can we say about this user and this customer! Ashley knows KaiNexus as well (if not better) than some of us KaiNexians! She is always asking questions and figuring out ways to improve the experience of KaiNexus for UC Davis users. She is a true advocate for Continuous Improvement and thus embodies the spirit of KaiNexus! We are proud to present the Honorary KaiNexian Award to UC Davis.


Engagement All Star Award is Presented to Mondi Group
Over the past year, this organization averaged 30 Items per person. That's a lot. Like a whole lot. This team creates smart but powerful workflows that capture information in an intuitive way that allows the user to thrive in KaiNexus. From COVID-19 audits to Change Management Projects this group does it all. By listening to their people and valuing feedback, they have created an incredibly engaged user base. Our 2022 Engagement All Star is Mondi Group!


The KaiNexie Award is Presented to Noah Paratore
Our last award is The KaiNexie, the highest honor we award our employees. This award is given to someone on our team who most embodies the spirit of KaiNexus. The winner of this award personifies our values and traits, going far beyond doing their job well. A KaiNexie winner makes those around them better and makes a measurable impact on our organization as a whole.

This year's winner started as an intern in 2018, eventually moving into a full-time role as a Solutions Engineer later that year. Last year, he was promoted to Senior Solutions Engineer. Noah brings so much joy to our lives on both a personal and professional level. His eagerness to help and to learn inspires those around him. His influence on his team and the rest of the company encourage us all to practice humility and a growth mindset, to serve each other, and to keep the fun in our work. Congratulations Noah, we love you! We wouldn't be who we are today without you.