Top of the mornin to ya! In honor of St. Patrick's day, we've followed the rainbow to its end where we found a pot of gold, and by gold, we mean these 10 new KaiNexus improvements!
Check out the video below or feel free to read along.
Tooltip for Filter Rules
KaiNexus supports tooltips in about 90% of the platform. Make that 95% now with the tooltip for filter rules. Go ahead and hover over any card title and you'll now see a preview of what the filter includes. This should make it easier to see why a card is displaying what it is.
Unify and Enhance Color Picker
Redesigned from the ground up, we've added a much nicer default color list, unified the color pickers across the whole platform, allow you to edit the default colors and even give an org setting to force using those colors if your organization chooses. Any marketing leprechauns out there can choose to use just shades of green if they want to! Head over to the General Admin section to change your organization's default colors and then log out and log back in to see the changes. (Hint: once configured, check out the Primary & Secondary Header color options under a cards layout).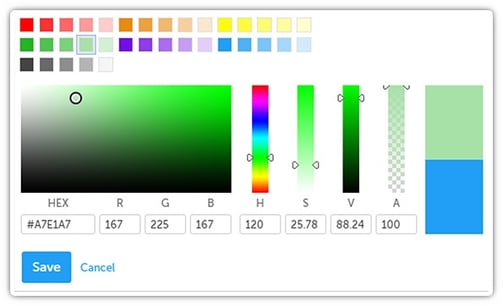 People/Network Location Attribute Types
An attribute can now be a list of KaiNexus Users or Network Locations. This allows you to filter and tag Users or Locations on a Project, Improvement or Task without them being a part of the team.
Chart Excel Import
We just made it a whole lot easier to import data into your KaiNexus charts. You can now drag and drop an excel file and populate your charts with the click of a button. Set up the series and dates/categories on your chart in advance and then simply drop in the data file and boom, chart created!
Opt-In Notifications for Specific Template Types
Receiving too many notifications that don't concern you? Now you can get notifications for just specific template types. For example, you can direct maintenance or IT requests to a specific individual or role. Some organizations have improvement processes with specific flows and now it is much easier to mimic your previous standard workflow in KaiNexus. Head over to the Notification Preferences menu, select your workflow type and include the template type. You'll now get those notifications on specific template types that are relevant to you!

Be sure to reach out to your Customer Experience Lead to take full advantage of these new features!