Happy 4th of July everyone! KaiNexus is setting off some fireworks with our huge 2.2.9 release.
Let's take a look at some of the highlights (and check out the full release notes here, if you're into that much detail).
Standard Work
Our most highly anticipated feature in 2.2.9 is…. Standard Work! Pre-populate workflows with frequent items to help standardize any improvement methodology. Create projects and improvements with specific to-do items automatically nested. This is great for setting up certifications, A3's, PDSA, DMAIC and more! Work with your customer experience lead to get your own Standard Work set up for your organization.
Resolution to all Workflows
We finally made the leap! You can now put a resolution on a project or even a task! For those of you project-heavy organizations out there, this means you can now calculate the impact directly from the project instead of through nesting an improvement. Reach out to your customer experience lead to take advantage of this new feature and get that resolution added to any of your workflows that may need them!
Recursive Project Copy
Previously, KaiNexus could only copy a project and any nested items directly below it. This could become very time consuming for bigger projects with a ton of nested items, multiple levels down. With the new Recursive Project Copy feature, you can now copy any nested items (up to 100 total) to easily replicate your larger scale projects being worked on by different departments.
Bulk Edit
We know that it was hard to edit lots of data at once. Putting your projects or improvements in a list view now allows you to bulk edit these items to save you a ton of time. Click on the ellipsis to see the new "Bulk Change" option. From here you can add a team member, change dates, change an attribute or even add a comment to multiple items all at once. This will also work for nested lists within a project or improvement as well as in the list view of a card. This was one of our most-requested features of all time and we are so excited to finally see it in action!
Impact Summary Improvements
We received some feedback that it was difficult to see the aggregate breakdown on the Impact Report. If you remember, we had to hover-over each quantitative calculation along the top of the report to see the specific categories or if it was a one-time or recurring amount. Now we can expand more detail to show the breakdown of Time Savings, Financial Savings, and Revenue Generated. We built this smart enough so it remembers your preferred view - and can even be configured as a setting on the Impact Report card.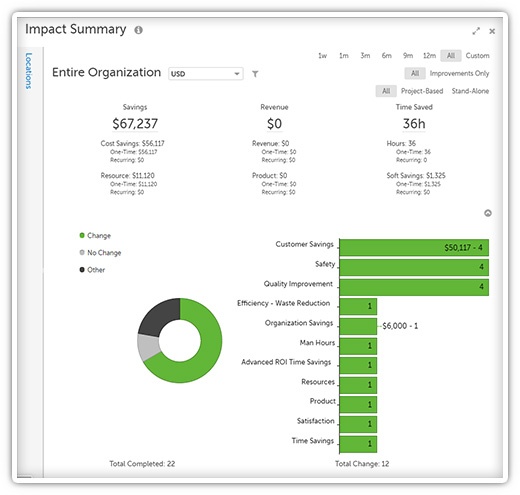 With 33 new improvements in this release, we could be here all day!
Make sure you check out our detailed release notes for the details on the rest of those new features. Also be sure to reach out to your CE representative with any configuration assistance.
Until Kai-next time, this has been your Customer Enablement Manager, Ryan Rippey, keep improving everyone!