---
Have you tried out the KaiNexus Mobile App yet? Give it a try! Download it:

We recently added some seriously awesome updates to our mobile app. Here are some of my favorite new features:
---
Support for all field types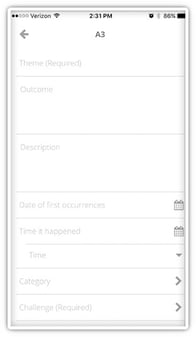 You may remember how we added a ton of new fields types to the KaiNexus web application a few months ago, making it possible for you to include both large text areas and small text fields, number fields, and date and time fields. As a reminder:
Text areas are large boxes in which a lot of text can be entered.


Text fields are smaller text boxes for fields with smaller expected responses.


Date fields, as the name suggests, prompt people to enter a date from a calendar.


Number fields, of course, prompt people to enter a numeric value.


For a while, those fields were only supported by the full web application. But I'm thrilled to report that you can now include those types of fields on the mobile submission forms as well.
Control the order of attributes and fields
You've been able to control the exact order of your fields and attributes in the full web application for a while now, but in the mobile app they were always presented so that all your fields were listed first, then your attributes. With this new mobile version, the presentation of your fields and attributes now mirrors your configuration in the system!
Submit Projects and Incidents
Back in the day, you could only submit Improvements in the mobile app. That covered most use cases for the mobile app, but some of you asked for us to support mobile submission of Projects and Incidents (for those organizations with the Incident Add-On enabled).

Well, ask and you shall receive!

You can now ask your Customer Experience Lead to enable mobile submission for any Project, Improvement, or Incident types set up in your system. That means that whenever you have an idea, no matter what kind, you can log it straight away from anywhere.

Projects, Improvements, and Incidents are designated by the usual icons. Just look for the right idea type and tap!
Supports Single-Sign On
Several of our customers now use Single-Sign On on the web application. (If you're interested in that, reach out your Customer Experience lead for more information).
With our latest version, Single-Sign On can now be implemented on the mobile app as well!
Offline Mode
Here is my absolute favorite addition to the mobile app:

If, when you log your idea, there is no network connection available, your idea is stored locally for up to 7 days. That means whether you are miles under the ground or 5 miles in the sky you can capture your thoughts and sync up when you are online.

When you're back online, open the app to submit your pending items. There will be a red banner across the top of the app that tells you how many pending submissions you have. Tap that banner to submit them, and you'll be all set!
We're pretty proud of this mobile update! Leave us a comment and let us know what you think.