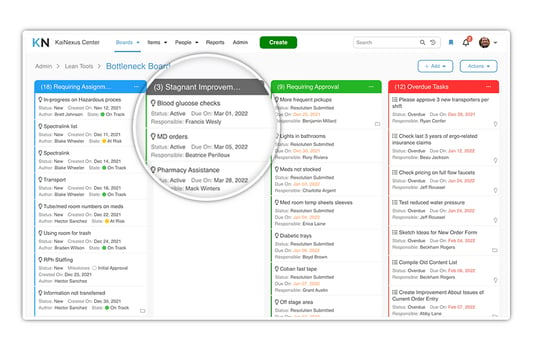 Monitoring the vital signs of a continuous improvement culture - engagement, activity, and impact, for example - gives leaders key insight into the health of that culture. It is essential that leaders be on the lookout for developing bottlenecks that can hurt those metrics. Nothing is more harmful to the momentum and effectiveness of improvement than out-of-control bottlenecks.
So what exactly is a bottleneck? Bottlenecks are constraints on some workflow that reduce its efficiency and capacity. In continuous improvement, bottlenecks occur when there is a delay at one step that causes the rest of the improvement cycle to slow.
In KaiNexus, there are four main bottlenecks - new Improvements that need to be assigned, Improvements that haven't been updated for some time, overdue (and severely overdue) Improvements, and Improvements which are waiting for the Assigner's review before they can be completed.
Many of our customers have found that building a Bottleneck Board in KaiNexus makes spotting problems and barriers in the continuous improvement cycle much more manageable. It also gives insight into how engaged the leaders are across the entire organization.
Mostly meant for CI leaders, this Board is typically set up so that you have a process to see that organizational leaders are engaged with their Improvements and Projects, and that Projects and Improvements are being updated promptly.


How do I build a Bottleneck Board in KaiNexus
For general information on creating a Board, check out this support page. Or take a look at this support page for more details on adding Cards to a Board.
You can use the "Bottleneck" filter - set to "new," "overdue," "not updated," or "resolution submitted" - to quickly return items experiencing a bottleneck on each Card.
Typically, there are five Cards on a Bottleneck Board:
Requiring Assignment

This Card should be set to return all Improvements that have been in the "new" status for at least a week.

Before work can truly begin on an Improvement, it must be assigned to a Responsible Person. There's no more effective way for a leader to convey that they don't value their team's input than to let an item sit in the "new" status for an extended period.

Take a look at which leaders should be assigning the Improvements, and coach them to promptly assign new items so that nothing is delayed longer than necessary.



Stagnant Improvements

This Card should be set to return all Improvements that haven't been updated in the last thirty days.

If an item's last updated date was more than a month ago, you might want to check that work is continuing on it outside of KaiNexus. If work has ceased, the Responsible Person (and perhaps the rest of the team) may need some extra coaching to get them back to work. If a lot of Improvements are going too long without updates, you may be looking at an indication of disengagement, and that needs to be addressed as soon as possible.

Coaching may also be needed if work is occurring outside of KaiNexus - people might need a reminder of the importance of logging work in KaiNexus and building a knowledge repository.



Overdue Improvements

This Card should be set to return all Improvements which are overdue.

If an Improvement's due date passes and it has not been completed, it becomes overdue. It's at this point that leaders may need to assess why it is not progressing as planned.

If work is regularly overdue, people might pick up on the idea that they're not accountable for their improvement work. It follows that people might begin to feel that their efforts aren't valued. If you enforce due dates, your team will see that improvement is considered a priority and that their efforts are valued.



Severely Overdue Improvements

This Card should be set to return all Improvements which are overdue by more than a month.

Items which are severely overdue need an intervention. Leaders should reach out to those responsible for them and offer assistance and coaching.



Requiring Approval

This Card should be set to return all Improvements awaiting the Assigner's approval before they can be resolved that have been in the "resolution submitted" status for more than a week. If your Improvements are getting caught in this bottleneck, you aren't capturing their value - and that can seriously demoralize your staff.

Leaders should be coached to promptly respond to submitted Resolutions so that nothing falls through the cracks.
A Bottlenecks Board is just one example of the powerful Boards you can build in KaiNexus. What Boards have you been using?