"New Year, New Me" is a popular expression heard every New Year. The start of a New Year gives people the chance to work towards being a better version of themselves - and KaiNexus is no exception to this. KaiNexus is celebrating the New Year with major updates in 3.0, scheduled to come out Friday January 7th. After so much anticipation for 3.0, it's finally here! Check out some highlights below:


Design Changes
In 3.0, you'll notice the entire look and feel of KaiNexus has changed. Not only are we giving the platform a UI facelift, but we have also dramatically improved the functionality of KaiNexus.
Improved accessibility across the app makes it easier for people to use KaiNexus. Some of the enhancements include increasing font sizes, simplifying screens by incorporating more white space, and increasing distance between lines - all of which make the app less overwhelming and more intuitive for users.

Workflows
In prior versions of KaiNexus, Workflows were limited to predefined Projects, Improvements, Incidents, Tasks, and Charts. In an effort to help KaiNexus more closely align with your organization's methods, Workflows will now operate more like a tag used to organize, filter, and report on your improvement work. You can now pick and choose the components you need to make your Workflows operate the way you need! To take advantage of this functionality, contact your Customer Success Manager.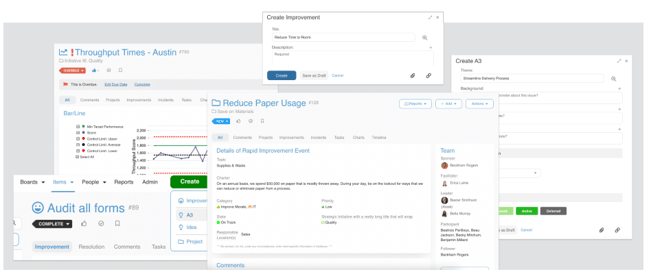 Universal Badges
Universal Badges are a set of badges available to all KaiNexus customers that recognize and reward user behaviors that drive improvement. From individual badges to streaks to Superbadges, Universal Badges are designed to motivate employees to try out the app, explore its functionality, and bring more of their work into KaiNexus. Universal Badges are designed to fit into every system no matter how you do improvement, bringing employees together through fun, collaboration, and friendly competition.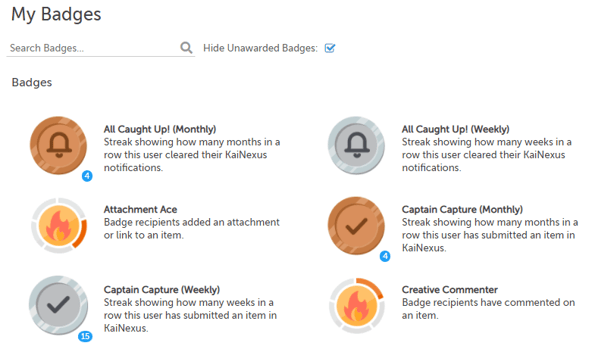 Navigation Bar
When you first log into KaiNexus after Release 3.0, one of the first things you'll notice is that the "Advanced Toolbar" on the left side is now referred to as the "Navigation Bar" and lives at the top of the screen. Not only does the new Navigation Bar increase available workspace on your screen, but it also has several updates that came along with it to make your time in KaiNexus more efficient.
Reports
The new Reports Snapshot is now Workflow-based and includes a status bar and Activity, Engagement, and Impact Reports. If you want to filter by more than just the Workflow, you can apply Advanced Filters to the Snapshot. We've upgraded the Reports in KaiNexus Version 3.0 to provide more context at a glance, distinguish between Workflows, and improve the overall Navigation experience.
In the meantime, if you have any questions or need assistance with the configuration of these new features, be sure to reach out to your KaiNexus Customer Success Manager. An overview and complete release notes can be found at support.kainexus.com under "KaiNexus Updates" after the release goes live.
If you're interested in learning more about the 3.0 release, be sure to register here for our next Training Team Office Hours Webinar on January 20th from 1:00 - 1:30 pm ET.
This has been your Customer Marketing Manager, Morgan Wright - Happy New Year!