In the Northern Hemisphere, the March equinox welcomes warmer weather, increased daylight, and those famous Texas wildflowers; there's even an extra spring in our step thanks to all the new features in this release! For those in the Southern Hemisphere, the March equinox marks the start of autumn, and we're confident that you'll fall in love with 3.0.2, too! Here are some highlights of our 3.0.2 release, scheduled to be released on Friday March 25th, 2022:
New 'Activity Feed' Card
This Release brought multiple new enhancements to Boards and Cards. You'll notice a new Card available - the Activity Feed card! The Activity Feed Card allows you to define the types of system activities you would like to see in a 'feed format'. Just to name a few of the activity options - these include created Items, Status transitions, Comments, Team updates, Attribute/Field updates, etc. This gives you a high-level overview of the various activities happening throughout your organization.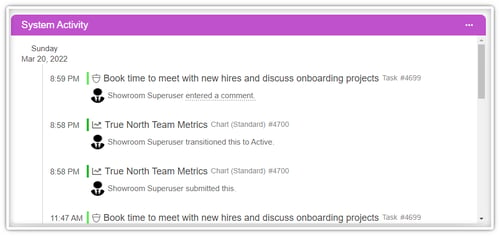 Calendar Integration
You can now feed a filtered list of Items from KaiNexus into your Google or Outlook Calendars. This is helpful if you want to see the start and due dates of your KaiNexus Items on your calendar. Stay tuned for a support article on how to accomplish this!

Enhanced Chart Visualization
A new visualization option has been added for your Item Lists containing Charts. These Item Lists can now be configured to only show the Chart visualization. This creates a more simplistic display of your Chart's data. You can do this by clicking the Ellipses on the List Card and check the "Chart Only" box under View Options.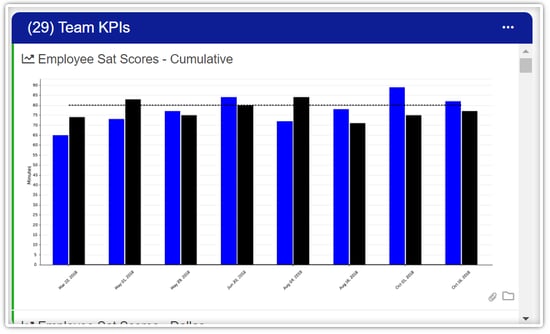 Set Permissions for Cards
If you have the Card Administrator Permission, you can now set Permissions at the Card Level. By clicking the ellipses on the Card and choosing Permissions - you can choose which Locations the Card will be visible AND the Editors for that Card. This allows you to show or hide Cards based on specified Location(s).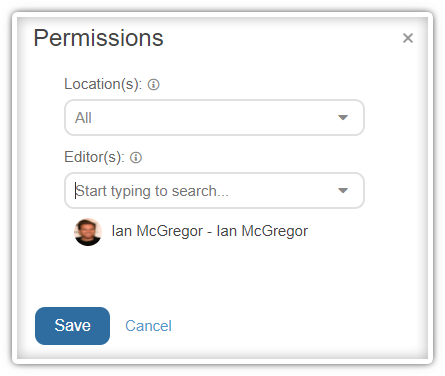 Card Stacks
You now have the ability to "Stack" Cards on any Board. Two or more Cards can now occupy the same space on a Board by being stacked on top of one another. You simply drag a Card over top of another to add it to the Stack. You can easily cycle through your Cards by using the up and down arrows on the top right. With the new ability to set Locations on Cards, this makes it easy to filter down your Stack(s) by Location to quickly find what you are looking for.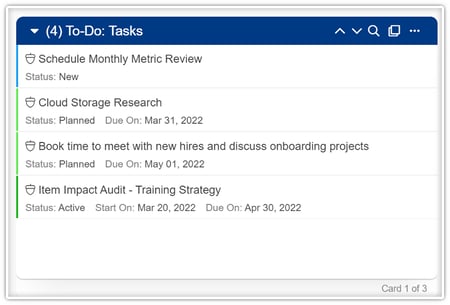 In the meantime, if you have any questions or need assistance with the configuration of these new features, be sure to reach out to your KaiNexus Customer Success Manager. An overview and complete release notes can be found at support.kainexus.com under "KaiNexus Updates" after the release goes live.
If you're interested in learning more about the 3.0.2 Release, be sure to register here for our next Training Team Office Hours Webinar on April 7th from 1:00 - 1:30 pm ET.
This has been your Customer Marketing Manager, Morgan Wright. Keep Improving!