New Year, New Release! Kick off 2023 with our latest release - KaiNexus 3.0.9! Our over 50 new improvements & features are aimed at reducing click friction, making communication easier, and improving overall user experience. New features include new Reporting by Persona, the new Comment Card, Milestone enhancements, and more. This release is set to go live this Friday, January 13th. Check out some highlights below:

Introducing the Comment Card
A new Card Type is now available on Boards! The new 'Comment Card' allows space for users to leave comments on Boards. Anyone that has access to the Board can leave a comment on the Comment Card. Users can interact with one another by liking and acknowledging comments directly from the Comment Card. This is a great way to provide huddle updates, announcements, and team recognition. As a Board/Card Editor, you can even pin certain comments to better draw attention to them!
Ability to Collapse Cards
You are now able to collapse Cards on Boards. By hovering over the Card header and clicking on the new collapse icon on the upper right corner of a Card, the card will collapse. This allows you to create a simple Board experience for your users, taking away additional noise that can occur on a full Board. This allows you to better focus user attention on what information you want to highlight. Board Editors can decide whether the default state of a Card is expanded or collapsed.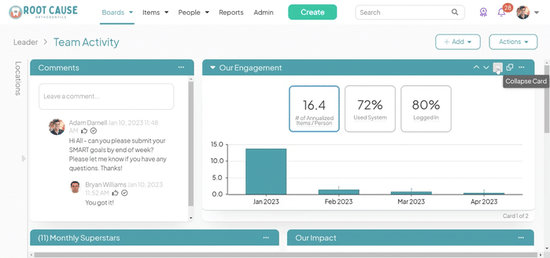 Notes and Update Panels on Templates
We have two new types of Panels that you can include in Items: Updates and Notes. Updates and Notes mirror the functionality of Comments, allowing you to organize your communication channels better. You have the ability to hide these tabs on the Template level, although you need to have at least one of the following tabs at all times: comments, notes, or updates. Now you can input specific information like Updates so that they are not mixed in with all the other comments on an item. Please reach out to your CSM if you'd like to take advantage of this feature.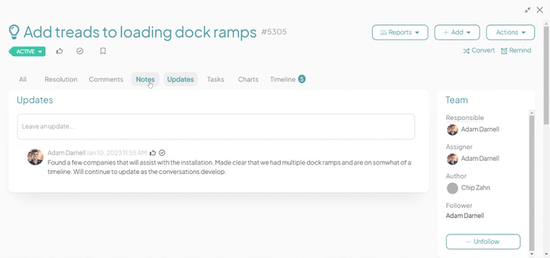 Milestone Enhancements
Calling all Milestone users -- there were lots of milestone enhancements this release! First, we now have Milestone Flags. If there are two or more Milestones ready for approval, they group up into one flag at the top of the work panel. Once you open the flag, if you have permission, you have the ability to approve or decline each Milestone from there. Additonally, we made enhancements to Readying and Not Approving a Milestone. We changed the label of the button to 'submit for [Milestone Name]' to provide a more intuitive experience. If you ready a Milestone for approval, but then want to unready it, you can click the unsubmit icon to quickly go back. Lastly, we now have the ability to 'Save and Complete' when approving a Milestone. We generally recommend enabling this on the last Milestone. After you approve the last Milestone, the 'Save and Complete' button will appear at the bottom, saving you some extra steps.

Like, Acknowledge, or Comment from the Notifications Window
You can now Like, Acknowledge, or Comment from the Items showing in your notifications window. This experience now matches your experience in your Activity Feed Card. We want to make it easier for you to interact with Items that appear across your feed. Quickly add a comment requesting an update or acknowledge an update added. By interacting with Items across your organization more often, this will encourage your users to continue doing more improvement work in the system.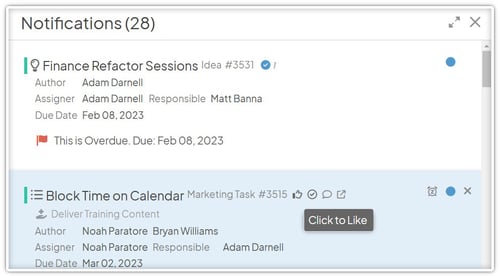 New Reports by Persona
Assigning Personas in your KaiNexus instance is important because it allows you to quickly monitor the activity and engagement of users who may have vastly different goals and responsibilities. This is why we introduced two new Reports by Persona - Activity by Persona and Engagement by Persona. This will help you to see the engagement and usage of your users based on Persona!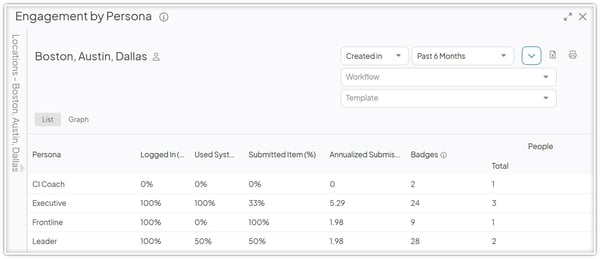 In the meantime, if you have any questions or need assistance with the configuration of these new features, be sure to reach out to your KaiNexus Customer Success Manager. An overview and complete release notes can be found at support.kainexus.com under "KaiNexus Updates" after the release goes live.
If you're interested in learning more about the 3.0.9 Release, be sure to register here for our next Training Team Office Hours Webinar on January 26th at 1 PM ET.
This has been your Customer Marketing Manager, Morgan Wright. Keep Improving!