It's been a hot summer here in Texas, but that hasn't slowed our team down one bit as we are proud to present a cool new release, 2.2.10! You can check out the full release notes here.
Let's take a look at some of the highlights:
We've been making tons of improvements to our resolution section. In one of our more recent releases we added a section that allows you to keep track of your investment, now we've added the ability to forecast ROI and track actual performance to plan. This will give visibility into the potential versus actual ROI so that your organization can ultimately get better at forecasting results. Set impact & investment targets for improvement, record changing forecasts throughout implementation, and compare predictions with actual results. Once enabled as part of the Advanced ROI add on module, you'll be able to submit Forecast, Target and Actual impact and/or investment in the resolution section of your workflow.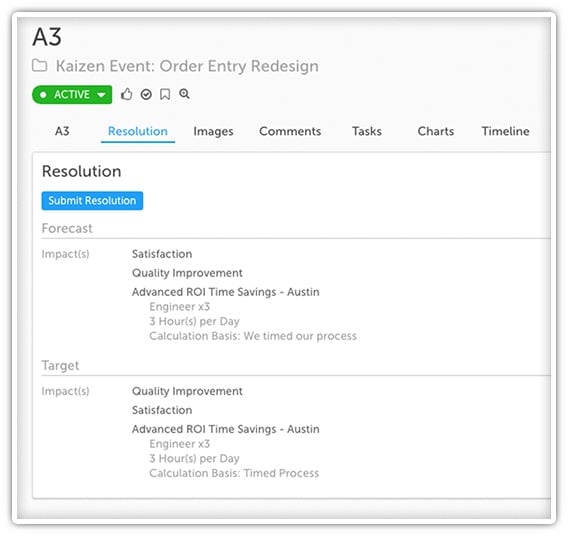 We know that being able to rank improvements and projects using your own custom criteria is important, so we've built a way to help! Introducing the Weighted Scores feature. Leaders can create a weighted scoring system, allowing your organization to score complexity, risk, priority, etc based on predetermined criteria. This ultimately will guide stakeholders to make strategic decisions on what should be prioritized. If you have the weighted scores feature enabled on a template, head over to the plus sign in the top right of your workflow item and you'll see a new option for scores. Select your options from each attribute and they will automatically create a score based on your choices. You can even add theses scores to a card on a board in list or tree view and sort by highest priority.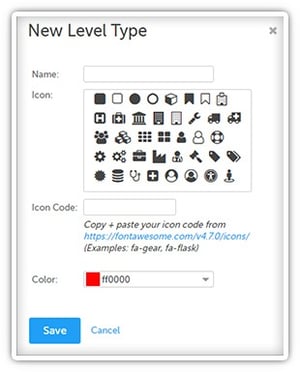 More Default Level Type and Attribute Icons
We added new Level Type and Attribute default icon options! You can still choose from the options on the Font Awesome website, but we've chosen some great new defaults for everyone to initially pick from. We can't wait to see your creativity and get your feedback here.
Save PDF to Specific Size Paper
You've been able to save to PDF for a long time, but we know that sometimes getting a hard copy in front of you on the right sized paper is important. We now offer the ability to commit your PDF exports to Letter, Legal or A3 size paper. Head over to the save to PDF option under the ellipses of your workflow item and you'll now see options for paper size as well.
With 18 new improvements in this release, we could be here all day! Make sure you check out our release notes for the details on the rest of those new features. Also be sure to reach out to your CE representative with any configuration assistance. Until Kai-Next time, this has been your Customer Enablement Manager, Ryan Rippey, keep improving everyone!