Our development team is always working to bring you awesome new features, improvements to the system, and bug fixes. Our latest release contains more than thirty updates!
Listen to KaiNexus CEO Dr. Greg Jacobson talk about the highlights of this release or keep reading to get more information.
Improved search functionality
People have been calling for improved search functionality for a while now, so I'm happy to report that our search just got a lot of better!
The new search is far more forgiving of typos. It doesn't matter if you spell a word wrong - the item you're looking for will still be returned. You also don't have to know the exact phrase you're searching for. Your search phrase can contain words in the wrong order and your target item will still come up.
---
Markdown text fields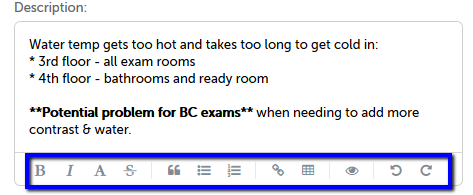 We've heard from quite a few of our customers that people would like to be able to add more formatting to their text fields on Projects and Improvements. Now you can!
You can format your text by bolding or italicizing it, making it a header or striking through it, indenting it as a quote, adding a bulleted or numbered list, adding a link, or inserting a table.
Reach out to your Customer Experience lead to take advantage of this feature.


---
Check for similar items when creating a new Project or Improvement
We've been hearing this request since the days of KaiNexus 1.5, so I know you'll be excited about this one!
When you're creating a new Project or Improvement, you can quickly check to see if there are any similar items already in KaiNexus. Just hover over or click on the magnifying glass next to your new Project or Improvement's title, and you can see a list of similar items.
This is great for two main reasons:
You can make sure you're not entering a duplicate idea. If someone else in your location has already submitted the idea, you don't need to submit it again, right?





You can also check for solutions people in other locations have had to your problem. For example, if you work in a factory and are reporting an issue with a certain process but don't know how exactly to improve on it, you can see if other workers in a different factory have already solved the same problem on their end. You can then see how that solution would apply to your location and work from there.
Check out the complete release notes here.
---